Throughout the year, the Eye on Stillwater series highlights those who help our students reach their full potential. It is a chance for the Stillwater community to get to know our teachers, administrators, and staff on a more personal level.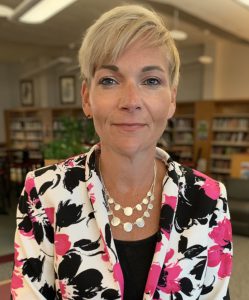 Mrs. Rebecca Toleman, a Stillwater resident, was appointed as the new elementary school principal at the May 28 board of education meeting. She served as a fifth grade teacher at Stillwater Elementary from 2013-2017. She was also a special education teacher in the district from 2001-2013. Since 2017, Rebecca has served as a principal at Moreau Elementary School in the South Glens Falls School District.
Mrs. Toleman earned a bachelor's degree in education from SUNY Plattsburgh, a master's degree in special education from Sage Graduate School and a certificate in advanced study in educational leadership, also from SUNY Plattsburgh.
Learn More
1. What do you like most about working in the Stillwater Central District?
What I love most about working in the Stillwater Central School District is the Warrior pride that exudes from the children, families, and staff members. It is a school that is committed to excellence for its' students and continuous improvement for the district as a whole.
2. What is your favorite event that happens at Stillwater?
My favorite event that happens at Stillwater would have to be the morning programs. It is an opportunity to come together as a school to spread a message, recognize the great things that are happening in the school, and honor students who go above and beyond. It also is a time to bring in our families and community members to celebrate along with us.
3. What made you want to work in education?
I always knew I wanted to teach; it was just what I was meant to do. However, my fifth grade year I had a teacher who recognized the traits in me that were necessary to be a teacher and took time to build that relationship. She continued, along with many others, to be my mentor all through high school and college.
4. If you could teach a subject area, what would it be and why?
I have always been an elementary teacher with the opportunity to teach all subjects. If I could teach something subject specific, I would teach American History. There is something about helping students realize how we came to have the freedoms we have today and the effect one event had on another. I love to find ways to make history come to life for them.
5. What would students be surprised to know about you?
Some students would be surprised to know that I have been to Disney World 15 times.
6. What do you like to do in your free time?
In my free time I love to watch my children do the things they love. My son Logan is a musician and an actor and my daughter Bella is a year-round athlete. I love to watch them do what makes them happy. I am also an avid reader and will talk about books with anyone who will listen.
7. What are the top three items on your "bucket list?"
I love to travel so my bucket list consists of places I want to visit: Ireland, Nashville and New Orleans.
8. What are you currently reading/listening to/watching?
I am currently reading Summer of '69 by Elin Hildebrand, House Arrest by K.A. Holt and In the Moment by Jen Munson. I always have three books going at once.
9. Favorite sports teams?
My favorite sports teams are: Stillwater Warriors, Minnesota Vikings, NY Yankees.
10. Back to school advice for the students in your building?
My back to school advice to the students is to know you are wanted, welcome and loved. There is always someone here who will listen and is there to help; you are never alone. Find what makes you happy and embrace it. And remember, kindness begins with you!