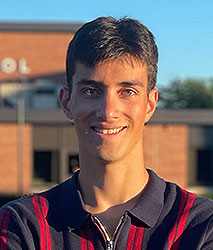 Stillwater High School senior Michel Ghorayeb has been honored by the Adirondack Area School Boards Association (AASBA) for outstanding community service and accomplishments. He was formally recognized at a May 12 ceremony in Lake George and received a $350 award.
Michel was recognized by AASBA for his accomplishments in the Model UN – NA USA's Young Diplomacy in Politics, and Advocacy for World Problems programs, and as an active member of the National Honor Society, Key Club, and Varsity Club.
Michel was also honored by AASBA for the following volunteer and community service:
American Red Cross Blood Drive Facilitator
Stillwater Middle School Student Mentor
Stillwater Food Pantry Events:
– Unload Trucks
– Stock Shelves
– Holiday Food Drives
– Recruit Volunteers
– Push-Up-A-Thon
NYS Student Advisory Committee Events:
– Foster Youth Leadership
– Community Involvement
– Input on Political Policies
Congratulations Michel! We are proud of you!