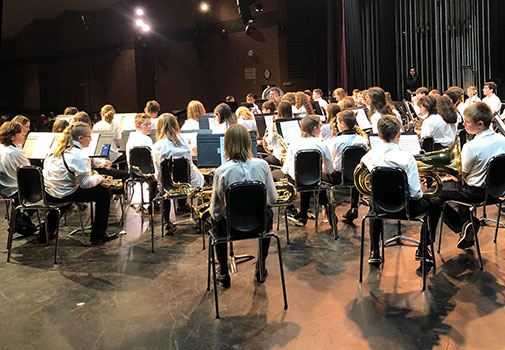 A record number of Stillwater students – 18 – were selected to participate in the All County Band this fall. They performed on Oct. 22 at Ballston Spa High School.
The grades 6-12 students were chosen following a rigorous selection process, with applications read and reviewed by the Saratoga Warren County Music Educators Association. They were led by music teacher Patrick Foxton and rehearsed for two days alongside students from 17 other school districts.
"After two years of not having this festival, it was amazing to see them performing at such a high level again," Foxton said. "I am extremely proud of all the extra work that went into preparing for this festival.
"Each student was given only about three weeks to learn the music. It is a huge honor for Stillwater to bring such a large number of students," he added. "Going up against Shenendehowa and Saratoga Springs doesn't make it easy for our students to get in, but the musical talent here within the school walls is truly inspiring for our program."

In the photos: The selected students during performance and as a group. Two students were unavailable for the photo due to illness.