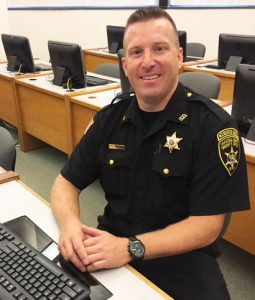 A member of the Stillwater Class of 1998 has been selected as the district's school resource officer, a new position that was approved during the 2018-19 school budget vote.
Deputy Paul Pecor has worked in law enforcement for eight years, starting his career in 2010 as a patrolman for the Stillwater Police Department. Deputy Pecor also served with the Mechanicville Police Department as both a patrolman and a patrol sergeant. He attended the Columbia-Greene Community College Law Enforcement Academy, where he became a NYS Certified Police Officer.
Deputy Pecor now serves as a deputy with the Saratoga County Sheriff's Office and he is also a sergeant with Stillwater Police Department. Some of his duties include road patrol, investigations, patrol supervision, Sex Offender Registry supervisor, purchasing, grant writing, budgeting and training.
A committee made up of district administrators and school staff unanimously selected Officer Pecor as the right person for the job.
"We are pleased to welcome Deputy Pecor back to the hallways of Stillwater and have him be a part of our district team," Superintendent Patricia Morris said. "Deputy Pecor had already established himself as a visible presence in our schools. Now, we are able to work with him on a daily basis to help enhance the safety and well-being of our students."
"I'm looking forward to building positive relationships with the students, faculty, staff, parents and community members here in Stillwater," Deputy Pecor said. "My number one goal is to help provide a safe, secure and enjoyable learning environment for all."
Deputy Pecor started in the district this week. His office will be located in the middle school, however, he will cover the entire district. Deputy Pecor will not only be a first line of defense in the case of a school emergency, but he will also serve as a valuable resource for students, providing opportunities for instruction on law-related education, safety programs, and alcohol/ drug prevention.
If you have any questions, Deputy Pecor can be reached at ppecor@scsd.org.