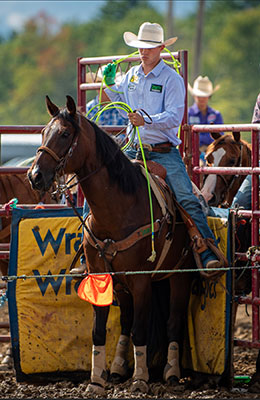 Stillwater senior Caleb Dunn's success in a sport involving both two- and four-legged teammates has earned him a spot on a college squad.
A skilled team roper who's won numerous competitions near and far, Caleb will attend the University of Tennessee at Martin next fall, where he'll compete on the rodeo team and major in agricultural business communications.
He's pictured here on his head horse, Stitch, a 16-year-old gelding. Team ropers are horseback riders who compete in pairs to rope the horns and legs of a steer in the fastest possible time.
Caleb started riding when he was around six years old.  His older brother, Riley,  was a championship western pleasure rider. Now a fifth grade teacher, Riley Dunn was ranked second in the world in western pleasure in 2016.
Like his big brother, Caleb has won numerous awards and cash prizes, competing in events all across the U.S, from Wyoming to South Dakota to Texas to Florida, where he competed in the National Team Roping League finals in Jacksonville in January. Caleb's team roping success will help pay for his college.
In addition to his classes at Stillwater High School, Caleb studies heating, ventilation and air conditioning (HVAC) at the WSWHE BOCES Myers Career & Technical Education (CTE) Center. He also interns with his dad's HVAC business and views working in the trade as an option after high school graduation. "When I come home from college, I can continue with HVAC, where I'll have earned certifications in the field."
Caleb's dream career, however, extends beyond those skills, will be a focus in college, and may indeed include some equine assistance. Caleb would like to one day own and operate a farm, where he will establish his own brand and bloodline of beef cattle. "I bought six cows two years ago and bred them. I now have seven cows and three babies, black angus and Herefords.
As for becoming a certified tradesperson, "I can earn money in the HVAC field and in agribusiness – I can do both," Caleb noted.
When asked what education or career advice he'd give a younger student, Caleb said, "Keep an open mind. Through CTE, you can find something you enjoy. Always look ahead. You could learn a trade or something that interests you.
"Don't rush yourself. It's never too early to look for something that will make you enjoy yourself when you're older. With any kind of job, I want to wake up every day and enjoy what I'm doing. I found my dream."