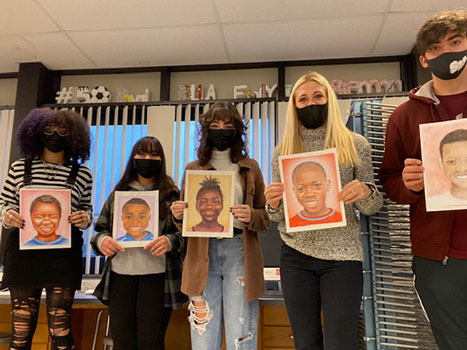 They haven't met or spoken with them, but students in Samantha Conboy's art classes at Stillwater High School have captured the personalities of children from across the globe using just colored pencils and graphite.
The drawing and studio art students are participating in the Memory Project, a youth arts organization that promotes intercultural understanding and kindness among children around the world.
"We were sent photos of children from Cameroon, and we drew their portraits as realistically as possible," Conboy said. "The portraits will be sent to the children, and in about a month, we will receive a video of them receiving their art work.
"This project is about connecting youth around the world through art to help build cultural understanding and international kindness," she continued. "Together, we are using art to reach a distant destination: a kinder world in which all youth see themselves in one another regardless of differences in their appearance, culture, religion, or the circumstances of their lives."
According to the Memory Project's website, an estimated 300,000 youth in 55 countries have been involved in the project's school-based programs since 2004.