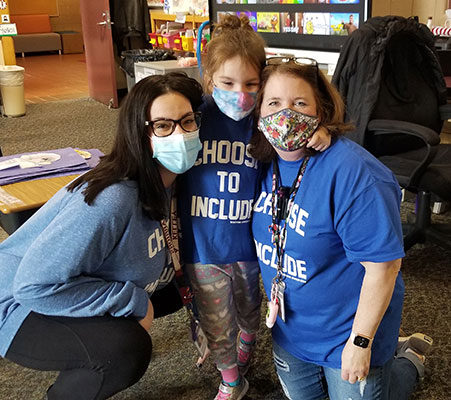 April is Autism Awareness/Inclusion of Differences Month at Stillwater, where faculty, staff and students donned blue Choose to Include shirts to kick off their observance on Thursday, April 1. And while the day's events were fun and inspiring and the month marks an important observance, the energy and efforts will continue beyond the celebrations.
On the first day of April, "Choose to Include everyone, because kindness always wins!" was the theme sported on tee shirts and sportswear worn throughout both schools, purchased during the previous weeks to raise funds and awareness. The kick-off festivities also included a tasty fundraiser for a future Best Buddies club: Superintendent Patricia Morris baked and donated dozens of festive Patti Cakes cupcakes to raise funds for the cause.
Stillwater Director of Pupil Personnel Services Carolyn Manzella coordinated the day's events and fundraising. Beyond current Autism Awareness/Inclusion of Differences Month observances, she is leading efforts to offer more activities and opportunities in the district for not only students on the autism spectrum, but for all learners, because all benefit when everyone is included.
At Stillwater Elementary, School Social Worker Deanna Sargent kicked off the month by sharing information with faculty and staff, along with a host of online resources such as videos, songs and a "Sesame Street" clip to help children of different ages learn about autism, kindness and friendship.
Throughout April, Stillwater Elementary Principal Rebecca Toleman and Carolyn Manzella will visit each pre-k to grade 5 classroom, where they will read to the children fiction and nonfiction books about various student differences, including not only autism, but also learning disabilities, physical and mental health disabilities, and more.
"We are trying to increase sensitivity to others who may have challenges we cannot see," Carolyn Manzella said. "And our awareness efforts fit hand-in-hand with our schools' efforts to be kind to and inclusive of all.
"We will be establishing a Best Buddies club in the middle/high school that will provide fun, social and inclusive activities that all students can enjoy," she added. "This month's tee shirt and cupcake fundraisers provided a great start toward our goal, and we thank everyone who showed their support."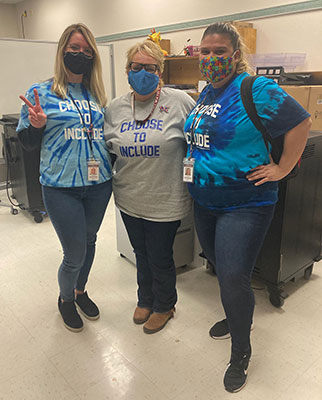 "Choose to include everyone, because kindness always wins!" is a mission embraced by Stillwater staff and faculty, including from left, Danielle Wright, Marla Scarchilli and Karina Ramirez.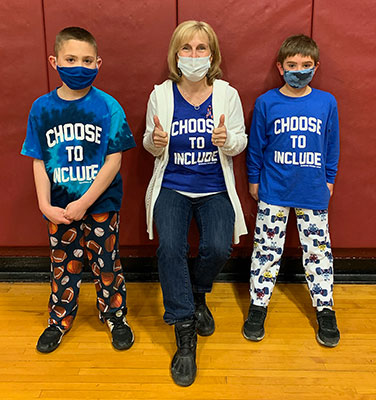 Stillwater Superintendent and Patti Cakes baker Patricia Morris with students at the April 1 kick-off, all sporting their Choose to Include shirts.
In photo at top of page:
Teachers Abigail Kelly (left) and Kathryn Daus kick off Autism Awareness/Inclusion of Differences Month at Stillwater Elementary with one of their students.