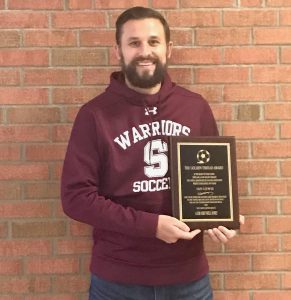 Hard work and dedication pay off. Varsity Boys Soccer Head Coach Ian Lewis proved that to be true when he was awarded the Section II Golden Thread Award this year. Each year, the award is given to someone who has made a positive impact on Section II soccer.
"It means a great deal to me to be this year's Golden Thread Award recipient," Lewis said. "It is the highest honor awarded to an individual in Section II soccer and I am honored and humbled that they chose to recognize me for the work I've done over the years."
Coach Lewis has been the varsity coach here at his alma mater since 2009. In that short time, he has over 100 wins and three league championships.
"Coaching allows me to always challenge myself to bring out the best in my players," Lewis said. "Each season I am tasked with figuring out the best way to help guide the players to rise above and achieve their individual and team goals."
In 2013, Coach Lewis was awarded the National Soccer Coaches Association Team Platinum Award for having zero yellow and/or red cards for his team for the season.
In 2014, Coach Lewis was selected by the National Soccer Coaches Association as the New York State Coach of the Year.
He served as the Wasaren League's representative for the Section II soccer committee for four years and he was the coordinator of Section II boys soccer for three years.
Coach Lewis currently serves on the state committee for Coach of the Year, as well as the all-state and regional player committees. He is also the Section II handbook and history coordinator.
Congratulations, Coach Lewis!