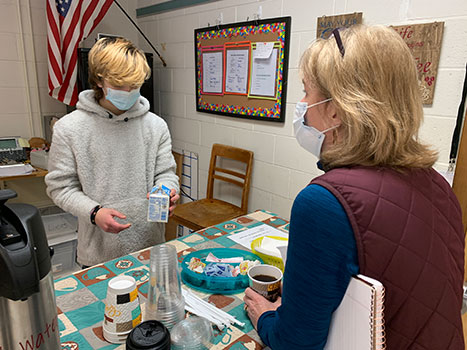 Stillwater faculty and staff seeking a hot beverage on a cold winter's day have to look no further than Cole's Coffee Cart, a business run by the students in the Life Skills class at the middle school/high school.
Coordinated by teacher Bridget Cole, teaching assistant Angela Coe and teacher aide Joanne Boucher, Cole's Coffee Cart builds students' academic, social and employability skills while providing a much-appreciated service.
Behind the scenes, the students work on inventory, food preparation and planning for their business. They take individual orders for hot beverages and treats, and on Mondays and Wednesdays deliver via a mobile cart. On Fridays, the students serve walk-in customers in their classroom.
Cole's Coffee Cart isn't the only place Life Skills students can be found sharpening their skills: they also work in the community at locations including Price Chopper and the Mechanicville and Stillwater libraries, and on their campus, assisting maintenance. All of these opportunities provide valuable real-life learning experiences for the students where they can put their education into action.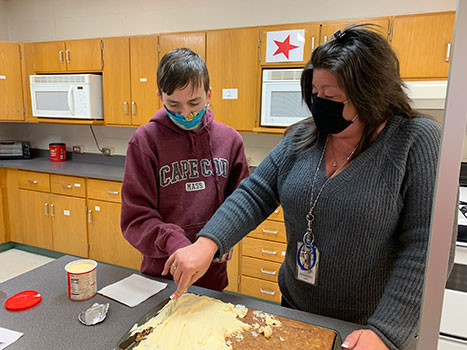 Cake with banana frosting was a recent treat of the week for Cole's Coffee Cart. Angela Coe works with a student.
In the photo at top: Superintendent Patricia Morris buys a hot beverage from a student working at Cole's Coffee Cart.