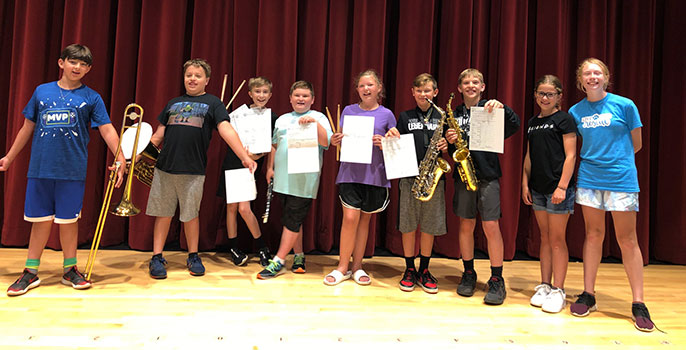 By Jim Iacketta
The Stillwater Elementary School music department, led by Miss Rachael O'Neill and Mr. Jim Iacketta, sent nine 5th grade students to various solo festivals throughout the area this spring. This number of students represents the largest number of NYSSMA performers from the elementary school since before the pandemic.
NYSSMA, which stands for the New York State School Music Association, hosts performance adjudication festivals every spring throughout the state and region. These festivals give student musicians the opportunity to improve their musicianship and performance skills, which in turn helps all our school music programs to strengthen and improve.
All students perform a NYSSMA sanctioned solo piece and are required to demonstrate basic musical knowledge in the form of scales and sight-reading. The performances are rated on a standardized rubric, and students receive their evaluation sheets for inclusion in their school career portfolios and to use to gain acceptance into honors-based performance groups, such as All-County Band and Chorus.
Our first performer of the busy NYSSMA festival season was Sawyer Lewis, who performed the snare drum solo, "William Tells All" as part of his adjudication. He performed in March at Maple Avenue Middle School in Saratoga. He had a great performance and was proud to receive a perfect score of 28 out of 28 points. AWESOME!
Next came the Piano Solo Festival held at Schenectady County Community College on March 12, which saw students Callen Baisley and Finley Bornt perform their first-ever piano solo. They both performed the piece "Playing Ping Pong," and received high marks for their performances. The girls performed extremely well, receiving numerous comments and advice which will help them to improve, and inspire them to continue to perform. Way to go, Callen and Finley!!! By the way, Callen was also involved in Jazz Band, Finley in the Chorus and Band, and both were in the Elementary Drama Production of the "Granny Awards!"
In May, at Ballston Spa High School, we had five more students perform on various instruments. Saxophonists Joseph LoFranco and Jack Luskin performed the piece, "Minuet" by J.S. Bach. Both received outstanding scores and many helpful comments to carry them into 6th grade. Great job, Joey and Jack! Your performances set a great example for your bandmates in both Band and Jazz Band!
Jackson Gutman performed the piece, "The Marshall," giving an inspired performance for the adjudicator, who rewarded Jackson with many helpful comments and a great score to boot! Jackson, by the way, has also played bass guitar this year as part of the 5th Grade Jazz Band. That's so cool, Jackson! Thanks for setting a great example for your low brass peeps!
Tayler Mondoux was up next, playing "William Tells All" on snare drum, impressing the adjudicator, who rewarded her with a great evaluation and helpful tips on how to improve her playing! She entered the room a little nervous, but came out of the room with a smile so huge it filled the entire school! Outstanding Job, Tay! Keep up the great work in Chorus, Band and Drama!
Our final performer for the Ballston Spa festival was Joseph Moore, who performed on the clarinet. His piece was called "Le Petite Rien," and it showcased Joseph's ability to perform a wide range of pitches and styles. All of this wrapped into one piece, and Joseph made it look and sound easy. Way to Go, Joe! Mr. Moore was also an important member of our 5th Grade Band and Jazz Band this year!
One last festival took place in late May at Shenendehowa High School and saw the debut of Henry Nadler on euphonium and the return of Sawyer Lewis on the bells AND jazz guitar.
Henry played the very famous piece, "In the Hall of the Mountain King," which has been used in movies and commercials. The piece has a very spooky, but forceful, sound to it, and Henry played it well for the adjudicator. Nice job, Henry! We'll look forward to having you play that euphonium AND add on some improvisation skills in the 6th Grade Band!
Sawyer, playing his second and third solos of the season, did extremely well, transitioning from "A Minor-Major Cha-Cha" on the bells to the laid back, "Groove Blues" on the guitar. On an interesting note, Sawyer had to improvise for the adjudicator, making up his own music on the spot using a blues scale. That's a great way to inspire your percussion teammates in the Band and help to motivate your Jazz Band peeps to make up their own music! And, we can't wait to see you on stage next year for MS Drama!
Great job to all our NYSSMA performers for 2022! We hope you continue to further your pursuit of musical excellence as you enter middle school! We are all so very proud of you! Thank you for playing and have a great summer!