Throughout the year, the Eye on Stillwater series highlights those who help our students reach their full potential. It is a chance for the Stillwater community to get to know our teachers, administrators, and staff on a more personal level.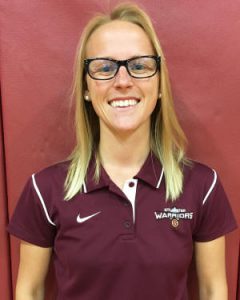 Coach Stephanie MacArthur has been with the Stillwater Central School District for five years. She teaches 8th grade Health, 7th & 8th grade Physical Education, and Personal Fitness in the high school at Stillwater. She is also the middle school girls soccer coach, middle school track coach, Wellness Day organizer, and Stillwater Summer Sports Camp director.
Coach MacArthur grew up on Long Island and currently lives in Greenwich. She earned a bachelor's degree in education with a concentration in adapted physical education and a master's degree in health education, both from SUNY Cortland.
Learn More
What do you like most about working in the Stillwater Central District?
The kids and the staff! We have great students, teachers, and administrators who are kind and respectful. Coming to work is easy when you love the people you're surrounded by all day.
What do you like best about teaching?
I like that certain aspects of teaching are consistent, but at the same time, every single day is different! Plus, knowing that you may potentially have a significant influence on a child's life is pretty spectacular.
What is your favorite event that happens at Stillwater?
I absolutely love the first day of school and Warrior Day. Even though both of these days are on opposite ends of the school year, they're both filled with excitement and smiling faces!
What is your favorite memory from teaching at Stillwater?
My favorite moment(s) from teaching are when a student comes up to me and explains how they've used what they learned in class in their own personal life. Perhaps it's a decision they made, a healthy food they're now eating regularly, or an unhealthy habit they've altered. Those are my favorite moments to reflect on.
Tell us about one of your favorite projects/units of study and why you enjoy sharing this with your students.
My favorite project is the "Compliments Project," where 8th grade students write anonymous compliments about their peers on the whiteboard in health class. We film and take pictures throughout the process and then I create a video for their graduation. It's absolutely priceless to watching the students react to their compliment board and see what their peers actually think of them. It's something I look forward to all year!
What made you want become a teacher?
I had numerous teachers and coaches who were very influential in my life. They helped me navigate my way, and taught me life lessons that I still use today. I was also very active and loved advocating for a healthy lifestyle, so I guess you can say the profession chose me!
If you could teach a different subject area, what would it be and why?
I would definitely teach science, or human anatomy to be specific. Our bodies are amazing!
When you were in high school, what did you want to be when you "grew up?"
I'm lucky in the sense that I've always known this is what I wanted to do. Many people struggle with the amount of options that are out there now for a career, but I never went through that.
What is the most unusual job you've ever had?
Hmmm, that's a tough one. Probably a maintenance worker in a gym during high school, or the pizza shop I worked at during college.
What would your students be surprised to know about you?
Even though you can typically find me sporting athletic clothing, I have a closet full of dresses and love getting dressed up!
What do you like to do in your free time?
Spending time with my husband and our dog Cedar, cycling, swimming, running, reading, and cooking.
If you had a million dollars, what would you do with it?
The first thing I would do is purchase a home for my parents near where I live, since they still live on Long Island. Then, I would throw a huge party for all of my friends and family!
What are the top three items on your "bucket list?"
Travel as much as possible
Become a mom and be a great role model for my future children
Have a tiny house one day
What are you currently reading/listening to/watching?
Currently I'm reading "Blink" by Malcolm Gladwell, I've been on a big John Mayer kick lately, and I just finished watching the "13 Reasons Why" series on Netflix.
What are your favorite sports teams?
New York Yankees….and the Stillwater Warriors!