Throughout the year, the Eye on Stillwater series highlights those who help our students reach their full potential. It is a chance for the Stillwater community to get to know our teachers, administrators, and staff on a more personal level.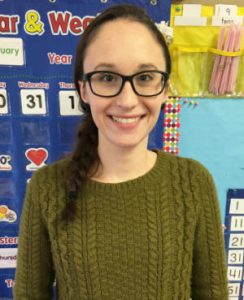 Mrs. Samantha Grace is in her first year of teaching in the Stillwater Central School District, where she teaches kindergarten.
Mrs. Grace grew up in Clifton Park and currently lives in Scotia. She earned a bachelor's degree in childhood education and arly childhood and special education certificates from SUNY Geneseo and a master's degree in literacy from University at Albany.
Prior to working in Stillwater, Mrs. Grace worked at Saratoga Academy of the Arts and Sciences as a teaching assistant, a kindergarten teacher, and a K-1 teacher. She also worked in the Niskayuna Central School District as a first grade teaching assistant.
Learn more
What are you looking forward to most about working in the Stillwater Central District?
I am looking forward to collaborating with and learning from the talented Stillwater CSD staff. I know that this is a place where I will be challenged as a professional and, therefore, it will be a place that I will be able to continue to hone my craft.
What do you like best about teaching?
The greatest aspect of teaching is being able to be a part of something greater than myself. I love helping students realize their potential and recognize that their curiosities can lead to great learning and growth. It's the greatest feeling in the world being able to see that "light bulb" go off each and every day.
What are some of your goals for the school year?
There is a goal that defines each school year for me as a teacher. I hope that my students see growth and can identify themselves as readers, writers, mathematicians, scientists, and problem solvers. Students need to see that they can posses these roles before they can grow.
Another goal I have, which applies to every year, is to grow as a professional. This year, I would like to focus on learning more about the reading and writing workshop curriculum as it applies to kindergarten. I would also like to continue my growth in the area of behavior management, attending conferences and collaborating with colleagues to increase my knowledge and repertoire of strategies.
If you had to choose a theme for this school year, what would it be?
The book Giraffes Can't Dance highlights a theme that I feel is extremely relevant in the world of kindergarten. It focuses on the fact that there may be some things we can't do yet, but that doesn't mean we won't ever be able to do it. It shows that in order to accomplish these things, we may have to find what works best for us in order to reach the goal.
For many children, kindergarten is their first year in formal schooling and it can, at times, be overwhelming. However, kindergarten is a place for students to learn about how they learn best!
Tell us about one of your favorite projects/units of study and why you enjoy sharing this with your students.
One of my favorite units is within the reading workshop curriculum. It is all about helping students see that they are already doing the work of readers, that they already ARE readers! During this unit I take students around the classroom and school and show them pictures of signs and packages that they may see outside of school. Then, we talk about how they're already reading the world around them. Students are amazed and eager to tackle new challenges as readers once they realize that they've already been doing so much of the work on their own!
What made you want become a teacher?
It was more of a "who" than a "what" for me. I had multiple teachers throughout my elementary, middle, and high school career who inspired me. From their enthusiasm and passion to their method of instruction and relationships with their students.
If you could teach a different subject area, what would it be and why?
I would love the opportunity to teach mathematical proofs in high school. It was one of my favorite courses because to me, it was fascinating. I also had a teacher that I really admired, which made it enjoyable!
When you were in high school, what did you want to be when you "grew up?"
I had my eyes (and heart) set on teaching ever since the third grade. I dabbled here and there with veterinary science and marine biology, but then I realized that I could incorporate ALL of my passions into teaching in some form or other. That's just one of the reasons teaching is such an incredible profession!
What is the most unusual job you've ever had?
I haven't had many unusual jobs, but I would say the most interesting job I have other than teaching is being a mom. Raising a two year old is never boring and there is ALWAYS something new to learn and discover!
What would your students be surprised to know about you?
I think my students would be surprised to learn that I played volleyball in high school. The surprise would likely be because of my height (which I am lacking). I played in the back row only, as libero, but thoroughly enjoyed my time on the court.
I think they'd also be surprised to learn that I grew up doing high ropes courses and really enjoyed being up in the trees, dangling from ropes, ladders, and obstacles of all kinds! Zip lining through the treetops is one of my favorites!
What do you like to do in your free time?
In my free time, I like to go on adventures with my family which includes my husband Jesse, our two year old daughter Valerie, and our lively canine Sony. We love to go on walks through our neighborhood, especially after a good rainstorm. We love to read, bake, do puzzles, swim, play with blocks, and enjoy tasty meals together all in a day, if possible!
If you had a million dollars, what would you do with it?
If I had a million dollars, I would definitely take my family on a trip of a lifetime to explore new cultures! We have always wanted to go to Australia and Italy, so those would be two places on the top of our list!
What are the top three items on your "bucket list?"
The top three items on my list would be to make a difference, write a children's book, and travel to a country in the southern hemisphere.
What are you currently reading/listening to/watching?
I am currently reading lots of Lucy Calkins, listening to my fair share of Moana and Sesame Street tunes in the car with my daughter, and watching tons of StoryBots (another of my daughter's favorites)!
Who are your favorite sports teams?
I tend to cheer on the underdogs in any game we happen to watch. Who doesn't love to watch a comeback?!