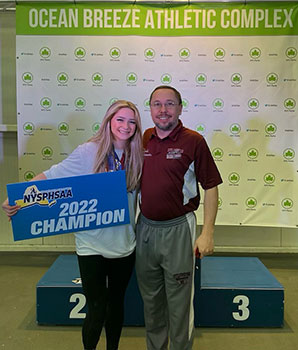 Congratulations to Gianna Locci, Kelly Moran and Kara Moran on their outstanding indoor track seasons. All three competed this past weekend at the NYSPHSAA track championships in Staten Island, with Gianna winning a state title.
Gianna is NYSPHSAA Champion in the long jump after jumping 19 feet, 5 inches. She also placed 4th in the 55 meter dash and 9th in the triple jump.
Kelly placed 7th in both the triple jump and long jump.
Kara placed 16th in the triple jump.
Congrats to our team and Coach Shawn McClements. Go Warriors!