By Coach Shawn McClements
The girls varsity track & field team entered the June 3 State qualifier meet at Shen ranked the #1 Class C team in the state. And they proved why that night!
High Jump: Jacey Locci (10) was one inch away from her first trip to the State Meet, jumping an impressive 5 feet! She placed third at the Qualifier.
Long Jump: Three ladies will represent Section 2 in this event . . . all from Stillwater! Gianna Locci enters States with the top seed of 19 feet. Kelly Moran is ranked #2 in the state with 18 feet 7 inches. Kara Moran also qualified and has a chance for the podium as well.
Triple Jump: Top-ranked Kelly Moran (12) pre-qualified, but the exciting development June 3 was Kara Moran. Kara needed to win at State qualifiers OR place second with a 36-5 mark. Her first two attempts were fouls – one more foul and she would have missed the finals and another three attempts. The third attempt was a 36-0, good enough to make finals, but not enough to qualify. Next two attempts – not enough. The sixth and final attempt was a 36-6, good for second and good to make the States team! We were all biting our nails on this one!
The 100 meter dash: Gianna Locci (12) pre-qualified, but proved why by winning at State qualifiers. She is ranked #1 in the state in this event too!
The 200 meter dash: Again, Gianna (ranked 2nd in the state) easily won the event.
The 4 x 100 meter relay: We entered State qualifiers the overwhelming favorites (ranked 2nd in the state) and, despite a lot of shaky hand-offs, won by over 2 seconds! The relay team of Skyler Rich-Kara Moran-Kelly Moran-Gianna Locci advances to States!
The 4 x 400 meter relay: Bella Estill (11) started the relay. She ran a smart leg against most teams' strongest legs and landed us in fourth place. Handed off to Skyler Rich (12), who had a "lights out" performance. Like a bullet she grabbed the lead and then pulled away. Gave Kara Moran a reasonable lead. Kara gave the field no relief and slightly extended the lead. Handed off to sister Kelly. Kelly ran, as always, like a woman possessed! The field disappeared as she ran a blistering pace . . .her split of 59.3 would have been good enough to win the 400 open event. Their time of 4:10 was a season best and puts them in the podium hunt at States!
To lend some perspective here: Most teams our size are dancing in the streets just to qualify an athlete, just one, to the Big Dance in Syracuse. Never in school history has a single athlete qualified for four events at States (the maximum).
We have three girls going to states in four events! It's a thing you only see in Disney movies, folks! It's surreal!
Add to that we are not just going to go, we go with top seeds in the 100, long jump, and triple jump, second seeds in the long jump and 4×1! We go to pack the podium! We go to win!
I can't overstate the dedication of this elite crew. Three of them are seniors who were doing all of this on prom night. They didn't leave Shen until about 7 p.m., sacrificing a major part of prom to do our business. I didn't have to convince them, they knew all along what had to be done.
When I signed up for this gig 20 years ago, Stillwater was not on anyone's radar in the world of track & field. [Friday] night I can't tell you how many area coaches, college scouts, and random parents said, "What are they doing in Stillwater? Something in the water?"
My answer was "Yes," but I didn't share with them the special ingredient in that water. It's us. It's the people of Stillwater: the teachers, the administrators, the families – it is the love we pour into these kids, day after day, that is our proprietary ingredient that makes it all happen. We can't take credit for the amazing things these kids will do, but we can be proud of our hand in nurturing it.
We have a week to prepare for the State Meet in Syracuse. Thank you for all you do. Thank you to Coach Mayo, Coach Hogan and Mr. Mack for their efforts at the State qualifier. These kids come to me with all the good work you put into them. They come to me ready for the work.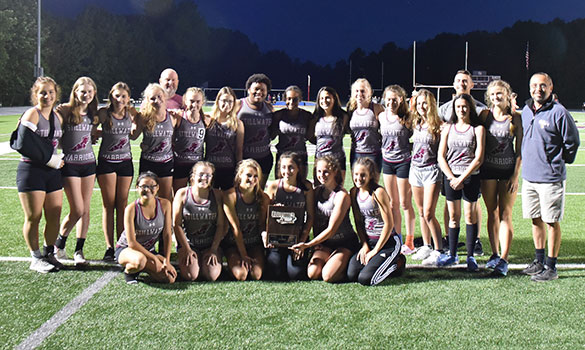 Read coverage by the Times-Union of the June 3 meet at Shenendehowa