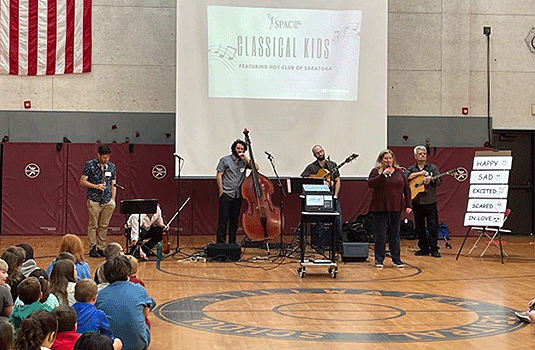 On May 8, all of Stillwater's third through fifth grade students had the opportunity to participate in a presentation by members of the Philadelphia Orchestra. The students were able to learn about how music can evoke different emotions. They also were able to hear different styles of music.
Since all the students participated in the program, they are now able to attend a performance by the Philadelphia Orchestra this summer when they perform at Saratoga Performing Arts Center (SPAC) on Friday, Aug. 18. The students will be able to sign up for two free amphitheater tickets (one for the student and one for a grownup to go with them) for this performance.
Students who participate in all aspects of the program including attending the Aug. 18 performance qualify for a free lawn pass, which gives them two lawn tickets to any classical performance (ballet or orchestra) until they graduate high school! What a wonderful opportunity for our Stillwater students!
-Article by Rachael O'Neill, elementary music teacher