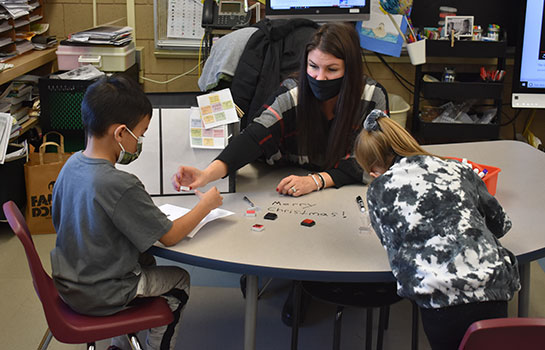 Stillwater Elementary School teacher Madison Ramnes recently received exciting news. After three years of hard work, dedication and teaching through the pandemic, she learned that she achieved the prestigious National Board Certification.
National Board Certification was designed to develop, retain and recognize accomplished teachers and to generate ongoing improvement in schools nationwide. It is known as the most respected professional certification available in K-12 education.
Ramnes earned the profession's highest mark of achievement through a rigorous, performance-based, peer-review process, demonstrating her proven impact on student learning and achievement.
"I'm glad I'm done with the National Board Certified Teacher (NBCT) process, but it's definitely worth it," Ramnes said. "It's great professional development, and the national board standards really benefit the classroom environment.
"Becoming certified makes you more thoughtful as a teacher," she added. "You feel renewed."
Ramnes has been a Stillwater faculty member for 12 years and currently teaches first grade. She's also taught students in third grade and as a reading specialist in the district.
She joins Stillwater colleagues Amy Carpenter, Julia Chesney, Rachel Fridholm, Kara Pitkin, Liz Retell and Nichole Weber in becoming an NBCT. Five more teachers are working toward certification.
"It is truly a privilege to have Mrs. Ramnes as part of our faculty," said Stillwater Elementary Principal Rebecca Toleman. "She brings so much knowledge and enthusiasm to the classroom and is always willing to be a resource for her colleagues. I am so proud of her hard work and accomplishment as well as her dedication to the profession."
There are currently 128,000 NBCTs in the U.S. Of this, 2,300 are from New York state including seven in our district. Five more teachers in our district are currently in the process of working toward their certification.