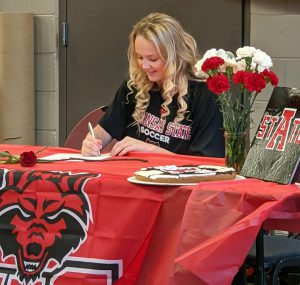 On Tuesday, Nov. 24, surrounded by her family and friends, Stillwater senior Keelyn Peacock signed her National Letter of Intent to play soccer with Arkansas State University. The signing took place at the Arvin Hart Fire Company in Stillwater.
Keelyn received a a full scholarship to play at the Division I school, where she plans to major in speech pathology.
Keelyn was a member of the girls varsity soccer team and helped lead the Warriors to the Class C New York State championship the past two seasons.
Congratulations, Keelyn!
Media Coverage