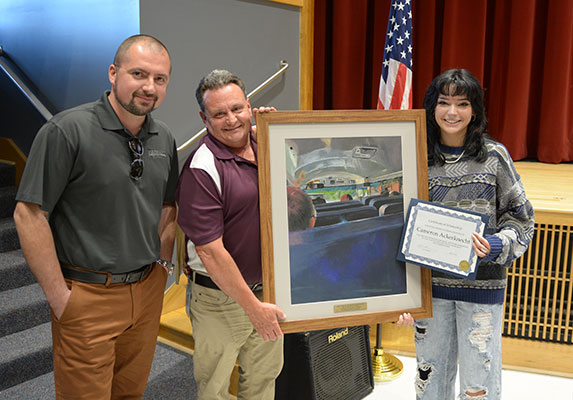 Stillwater senior Cameron Ackerknecht was formally recognized at the May 9 Board of Education meeting and presented with a scholarship award for winning the 2022-23 Leonard Bus Sales "A Day in the Life of a School Bus" statewide art competition.
At the meeting, Cameron was presented with a $1,000 scholarship certificate, and she and Stillwater Transportation Director Tom Murphy were presented with her framed artwork by Leonard Bus Sales, Inc. Transportation Advisor Roman Garasymchuk for display in the department's bus garage.
Reproductions of Cameron's statewide-award-winning painting will be distributed to and displayed by school transportation departments throughout the state.
In a news release about the award, President of Leonard Bus Sales Jon Leonard said, "Education and learning are lifelong endeavors, and the Leonard Bus Sales family is honored to help talented students like Cameron in their ongoing educational pursuits.
"A Day in the Life of a School Bus Art Competition allows students to share an important aspect of their school day – how they are safely transported to school, home, and scholastic activities on a yellow school bus. Leonard Bus Sales is honored by the trust our school transportation partners place in our company, and we are proud to support students between the many stops along their educational journey."
In her original award letter, Leonard Bus Sales said, "After reviewing the work of many talented artists from across the state, our panel of judges felt that your work best embraced the theme of the contest."
According to Cameron, her acrylic painting "A Peaceful Start to Seven Hours of Stress" depicts a bus full of students on their trip to school. The perspective is from of the back of the bus with the students looking forward,
likely contemplating what the day holds for them.
Cameron plans to study art at SUNY New Paltz this fall. Congratulations Cameron!
Leonard Bus Sales launched its annual art competition to inspire and recognize young artists in high schools across New York state. A Day in the Life of a School Bus Art Competition requires participating juniors and seniors to artistically depict a day in the life of a school bus and select either an IC BusTM, Trans Tech, or GreenPower brand school bus as the subject, the three brands that are sold and supported by Leonard Bus Sales.
In the photo at top:
Cameron is pictured with (left) Roman Garasymchuk, Transportation Advisor, Leonard Bus Sales, Inc. and (center) Tom Murphy, Director of Transportation, Stillwater Central Schools during the presentation of Leonard Bus Sales "A Day in the Life of a School Bus" art competition scholarship.