While the 2020-21 school year may be different, many of our clubs and activities are still meeting and taking place. They're hard at work with a variety of fundraisers, events and spreading awareness. This feature, "Behind the Scenes," will showcase a variety of Stillwater clubs and activities throughout the year.
Learn more about our Class of 2022 Club and what they're doing for our high school community below!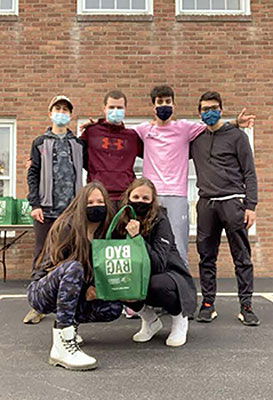 By Ms. Peri Crowley, Class Advisor
The Class of 2022 is a club that builds class spirit and connections between class members. The club stresses school as well as community involvement with a focus on providing charity to local organizations. It also provides opportunities to foster skills as leaders, to create, implement and achieve long term goals, and to take on responsibility for the benefit of others. A final responsibility of the Class of 2022 is fiscal responsibility, with the goal of fundraising to support senior year fun!
Classes have always had advisors to facilitate class events like class ring ceremonies, graduation, prom and occasional class trips or picnics. These clubs always provided leadership opportunities as well. About 15 years ago, Ms. Jerard (now Mrs. Cook) became the permanent senior class advisor. The then senior advisor Mr. Cook and Mrs. Cook planned the first senior trip to Disney, and the rest is history. Each year, classes fundraise with the goal of being one of a few select districts where seniors get to go on a class trip to Disney. The Disney Trip allows seniors to be little kids together one last time before heading off to jobs, college and other adult responsibilities. Fundraising also helps to defray the costs of senior breakfasts, picnic, and of course, prom.
The Class of 2022 is fortunate to have many leaders with great ideas. As such, unlike many classes, we have had a different slate of officers each year! Presidents and VPs have included Haydynne Patenaude/Logan Toleman, Paige Womble/Kelly Moran and Michael Ghorayeb/ Kelly Moran. Lauren Zazzaro, Bella Reuter, Belle Pennisi and Mei Lei Urbanski have served as Class Representatives. Secretaries Soraya Mahdavi and Ryleigh McDonough have documented our meetings as great ideas unfold. Finally, Courtney Crowley has designed the annual budget and kept the books for us all three years.
With such a talented group of individuals, we have had a lot of fun and success fundraising and hosting class meetings and events. I would be remiss if I did not commend the efforts of not only the officers and parents of the Class of 2022, but also the regular contributions of Tania Martinez, and of the Zuzick twins, Morgan and Mackenzie, to our fundraising efforts. Thank you ladies!
In a typical year, we elect officers, decorate the halls for homecoming, set up a successful homecoming hot drinks booth, and have run concessions for the Warrior Walk, all by October each year! We generally have at least one big catalogue fundraiser each fall and spring. Last school year, we hosted our first (and hopefully not the last) breakfast with Santa, which was so much fun not only for the juniors, but Stillwater students of all ages.
Freshman year we donated to the Warrior Walk, sophomore year we hosted a Toys For Tots gift drive, and junior year along with Student Council we hosted both a holiday food drive for the local food pantry and once again collected Toys For Tots. To boost class and school spirit we have delivered candygrams for Valentine's Day and promoted Warrior & Class of 2022 gear, produced by both Josh at Val's and Chris Dunn. We have not let Covid get in our way!
Despite new challenges, we continue to have virtual class meets in our Class of 2022 classroom on Thursdays after school. We have successfully conducted two fundraisers this year, as well. We are hopeful that as conditions improve, we may even be able to meet in person at a distance by the end of the school year.
The Class of 2022 is looking forward to the best, most normal senior year ever! Plans for senior year include the usual activities: time-honored senior traditions, and a whole lot more getting together in person. We feel so lucky to continue as a club this year. Seeing each other and planning for the future gives us all a much needed boost! If you are a junior and are looking for some companionship and fun, please join us in our meet on the Class of 2022 classroom Thursdays at 3:00. You will be glad you popped in!
"Teamwork: coming together is a beginning, keeping together is progress, working together is success" -Henry Ford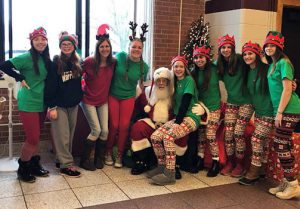 Last school year's breakfast with Santa event