While the 2020-21 school year may be different, many of our clubs and activities are still meeting and taking place. They're hard at work with a variety of fundraisers, events and spreading awareness. This feature, "Behind the Scenes," will showcase a variety of Stillwater clubs and activities throughout the year.
Learn more about our Student Government and what they're doing for our high school community below!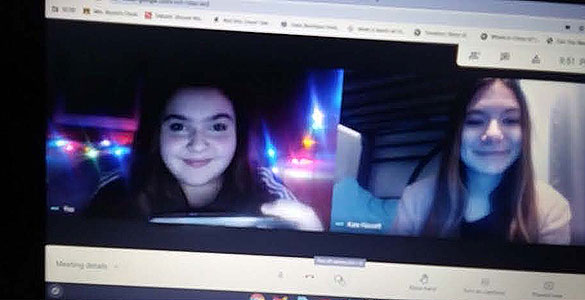 Contributors to this article include Ms. Peri Crowley, Mrs. Elizabeth Eggleston, Kate Hassett, Lily Izzo and Alivia Bouleris
What have you been doing so far this year and what do you have planned?
Student Government meets on Fridays. Historically, Student Government has helped to create a positive environment in the school. For years Mrs. McBride advised Student Government. Annual projects included a holiday gift drive for soldiers, the Snow Ball winter dance, and providing breakfast to the student body on Class Day.
In recent years, Student Government partnered with Mr. Rauci at the Toyota dealership to give juniors and seniors the chance to participate in a very moving driver awareness program each spring to encourage safe driving for our students. Finally, members of Student Government including Past President Jordan Dunn participated as stakeholders in our school superintendent search process in 2016.
Our current Student Government is under the new leadership of Ms. Crowley, Mrs. Eggleston and our 2020-2021 officers. President Alivia Bouleris has participated for many years and serves a crucial role as one of our few veteran participants. She and senior Olivia Morrell serve as a bridge to help the club merge practices and new ones.
Newcomer officeholders include Vice President Kelly Moran, Treasurer Courtney Crowley, and Secretary Lauren Zazzaro. Rounding out our membership are freshmen Kate Hassett, Sarah Silvestri-Folmann and Julietta Rapisarda.
President Alivia Bouleris said, "Originally, I wasn't planning on joining student government because I wasn't sure I would be able to make the commitment, but I'm glad I did, because it is really fulfilling being a part of a club that wants to improve the school environment any way we can!"
Freshman Kate Hassett tells us, " A quote that I think represents the club Student Government is 'Serve with pride, lead with confidence, and inspire to impact lives,' by Mehul Mg. Why does this represent Student Government? Well, in Student Government so far I have learned that we should take pride in community service and helping others in need.
"During my time in the club, (this is my first year), I have also learned to lead others with confidence in hopes that others won't just follow but lead as well.
Personally I chose to be a part of Student Government because I love to inspire others, and one day my wish is to make a difference in at least one person's life because that is success to me," Kate continued.
"In addition to making a difference, the accomplishments this year so far that I am proud of are, donating food for families during Thanksgiving, donating toys to Toys for Tots during Christmas, and giving gifts to one little girl to help make her Christmas a lot more special and bright. It does not have to be any huge gesture to make someone's day, it just takes a smile or a little gesture to let someone know you care.
"As expressed, I believe that when you take the extra step to do something compassionate and even volunteer, you are building up a more supportive and stronger passion in others in the community. We Are Warriors!"
Lily Izzo also selected a quote to represent the goals of Student Government: "If you want to lift yourself up, lift up someone else," by Booker T. Washington. Lily commented, "Participating in Student Government has been such a great opportunity so far to help others that are in need. It really does make you feel great when you are able to make someone else's day a little brighter.
"In Student Government I have participated in bringing in food for families for the holidays. I have also helped bring toys in for a little girl, to let her have a special Christmas. Because of Covid-19 it has been very hard for a lot of families. And by doing things like this I hope it will help. I do feel very proud and happy that I have had the opportunity to participate in Student Government. I have always loved helping others! I can't wait to continue doing more of this! Just by doing something little can make a great impact."
Our core group of lady warriors met weekly last fall to jointly organize a food drive before Thanksgiving and to collect Toys for Tots for Christmas with the Class of 2022. Lauren, Kelly and Courtney are active participants in both clubs. Student Government also adopted a child through the elementary school for Christmas. The generosity of these girls was amazing!
In February, we are planning to carry on the Rachel's Challenge tradition Mrs. Luskin initiated by collecting books for Project Cameron (books for babies in NICU). In March, the Student Government will be working with PTA and the elementary school to do readings and activities with elementary students (virtually) for PARP. We are hoping to be able to get together for meetings in real life this Spring, and to be able to help the Class of 2022 implement a safe and fun Class Day in May.
Student Government Club Members:
Alivia Bouleris, President
Kelly Moran, Vice President
Courtney Crowley, Treasurer
Lauren Zazzaro, Secretary
Kate Hassett
Lily Izzo
Sarah Silvestri-Folmann
Olivia Morrell
Julietta Rapisarda