Article by Coach Shawn McClements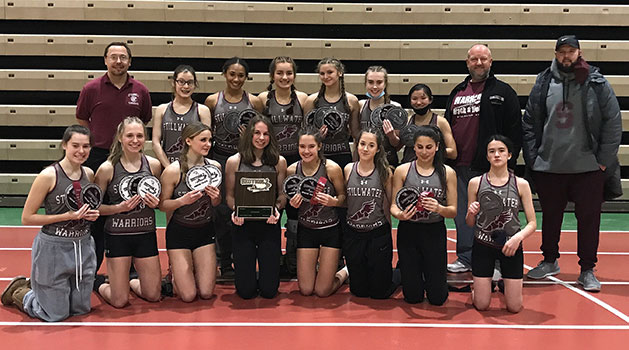 After missing out on a season in 2021 due to COVID, the Stillwater girls showed they have not missed a step by repeating as the Group 4 Section 2 Championship team by outscoring their nearest rival Greenwich by a score of 103 to 78.
Despite the score margin, the end result was anything but certain. An injury in the practice leading up to Sectionals side-lined Captain Kelly Moran and fellow Captain Gianna Locci, who competed in the Melrose Games only the day before, was also nursing some injuries. These setbacks could have cost the Warriors the title, but this team had other plans.
"When adversity comes knocking (and it always comes knocking!)," said Head Coach Shawn McClements before the meet, "a great team will see it as an opportunity to find new heroes. I am looking for heroes today!"
And the heroes stepped up, sometimes from surprising places! Kara Moran led the Warriors in scoring with wins in the triple jump and 55 meter dash (she also posted a second place in the long jump). Captain Gianna Locci, winner of the Melrose Long Jump the day before, took the long jump and set a new school record in her win of the 300 meter dash.
But these were not the surprise heroes. The biggest surprise was Jacey Locci – Gianna's younger sister. Jacey jumped a personal best in the high jump to take second, then returned for another second in an incredible 1000 meter run. Jacey was seeded sixth in the 1000 but managed to pass the field in the last lap to claim the number two spot.
"That right there was the highlight of the meet for me," said Coach McC. "Whenever you see an athlete with seemingly nothing left reach down deep and muster that last bit of fury you need for greatness, THAT is what sports is all about! THAT can't be trained, or taught, or coached. It takes a strong person to reach that deep. It takes a hero."
Another standout performance came from Izzy Mack, a freshman who took third in the 55 meter dash and second as the lead off leg of the 4 x 200 meter relay.
Captain Skyler Rich led both her relays (the 4×200 and the 4×400) to second place showings.
Sofia Perniciaro, a freshman, jumped a big personal best in the long jump to take fifth.
Sophomore Sarah Hanssen walked away with three Sectional patches (3rd in the 4×800, 3rd in the 3000 meter run, and 2nd as the anchor of the 4×400 meter relay).
These are just some of the great efforts put on by the Warriors to keep their title.
For the full results you can explore www.section2harrier.com (search "Group 4 Sectionals").