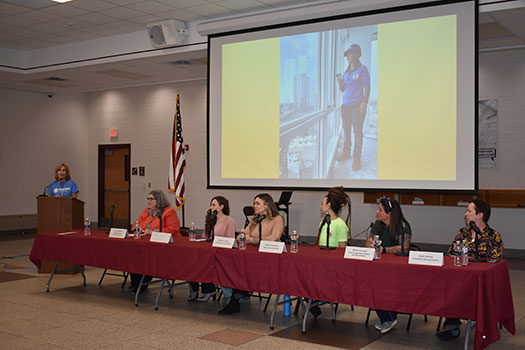 Five female tradespeople and a local state Assemblywoman were unanimous in their message to attendees of Stillwater's Women in Trades event: the opportunities for rewarding, enjoyable careers for young women today are unlimited.
The March 16 evening program for area students and their families was presented as part of the district's Career Week activities in collaboration with Assemblywoman Carrie Woerner, who moderated a panel discussion. Superintendent Patricia Morris opened the event and introduced Woerner and the panel.
Panelists included:
Kathy Stilsing, Stilsing Electric Inc. president
Ashley Ciccarelli, Plumbers & Steamfitters Union organizer
Janelle D'Ambrosio, Carpenters Union apprentice
Marjorie Travison, Ironworkers Union journeyperson
Melissa Clark, North Atlantic States Regional Council of Carpenters marketing manager
The panelists talked about how they chose their careers, what a typical day might involve, the interconnection of the trades and the many rewards – professional, personal and financial – of working in fields where male workers generally outnumber women. They also offered advice for young women considering careers in the trades.
Stilsing, whose company focuses on commercial work such as traffic signal and large electrical projects, likened electrical work to art, where skill, organization, quality and finish are of top importance. She noted the value of learning a trade from the ground up, such as through union training programs, and stressed the need for more women to enter the trades.
"New York State has great opportunities for women in construction, including free college and training courses, with great pay," she said. "For example, a journeyman electrician can earn $41 an hour for traffic signal work." Salaries are even higher, she noted, based on experience and job type.
Ciccarelli, who previously worked as a technician and GlobalFoundries foreman, stressed how ability, skills and a positive attitude allow women to quickly overcome the initial hesitance of male coworkers. "If you give respect, you get respect," she said, while encouraging event attendees to consider their possibilities. "Women should explore the trades. They offer free education – you earn while you learn, avoid college debt and can travel anywhere you want to work."
D'Ambrosio said she "loves learning and going to work as a carpenter every single day."  She added, "Watching the specialized skills of tradespeople come together on a construction job is amazing. The trades don't have enough people, yet they pay you to learn, you can work anywhere and you don't always have to carry your tools at every job – there are a lot of different job options available. And don't be scared [to be a woman working in the trades]. Men get scared, too."
As a journeyperson ironworker, Travison said her career is interesting, varied and never boring. "It involves spatial reasoning and creative problem solving, with something new every day." She advised young women to explore, seek experiences and learn skills early on to find out what they like to do and want to do, and she noted that unions offer higher wages, benefits, safe workplaces and many opportunities.
Clark, who works with union carpenters statewide,  echoed the need for more people in the trades, including women. "My job involves outreach, education and awareness, and recruitment is a challenge," she said. "We have a lot of people retiring. I recommend pre-apprentice programs, BOCES classes and opportunities to build soft skills and work-related certifications such as OSHA and CPR [to explore and build a career].
Summarizing the panel discussion, Woerner articulated several common themes voiced by the panelists: career exploration, experience and skill building; a positive attitude and being on time; communicating well; having a mentor; and working well as a team. Opportunities abound in the trades!
Superintendent Morris is an active member of a regional workforce development task force and has been working with fellow educators, guidance counselors, trades people, labor organizations and businesses, and the WSWHE BOCES to identify ways for more young people to understand the vast potential offered by careers in the trades.
Thank you to WTEN-TV 10 Albany and The Express newspaper for covering the Women in Trades event, and to the students and staff who helped make the evening run smoothly.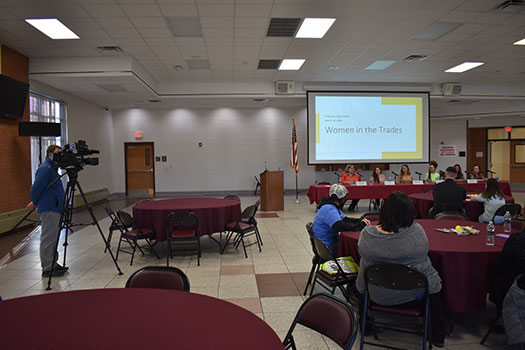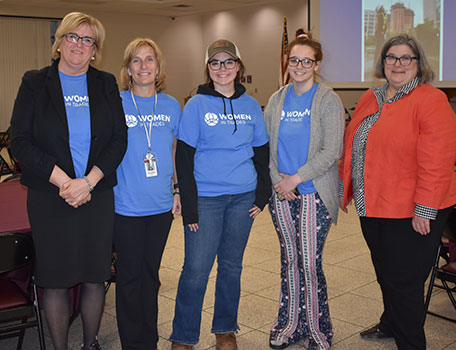 posted 3/17/22; reposted 3/21/22