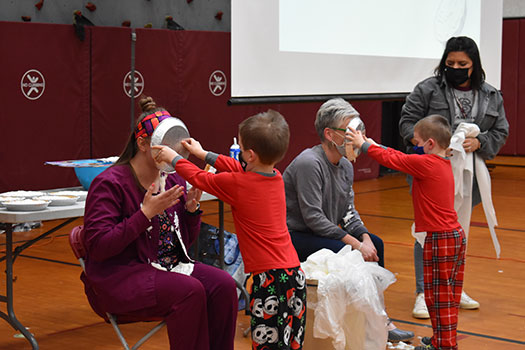 Wow! Our kind and caring Stillwater Elementary students raised $3,694 by reading for Ronald McDonald House.
They followed the adventures of Humphrey the hamster by reading "Winter According to Humphrey" and collected pledges over the past few weeks. The book was the focus of both their Read for Ronald McDonald House fundraiser and One School One Book program.
"I'm so proud of you!" Principal Rebecca Toleman told the children during a Feb. 18 afternoon assembly. "Because of you, families have a place to stay when they have someone in the hospital in Albany, the Ronald McDonald House. They don't have to pay, and they can be near their family members."
The children celebrated their accomplishments at an assembly in the gym, the first such event in two years. Those who participated in reading for Ronald McDonald House and in the One School One Book program also had a chance to pie a staff member, including their principal.  A great (and messy) time was had by all.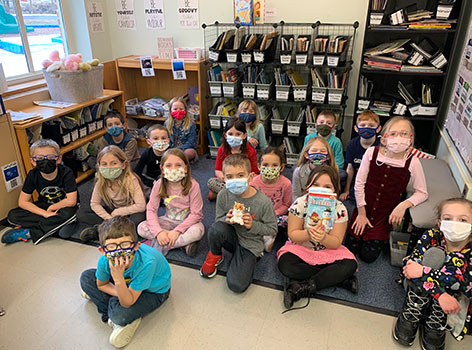 According to their website, Albany Ronald McDonald House "provides a haven of comfort, love, hope and support – free of charge – for critically ill children and their families. [The House aims to] enable family-centered care by keeping children close to their families during a time of hardship.
"Read for Ronald McDonald House encourages children in their achievements in reading, a core skill that is vital to their future success in life'," the website notes. "By participating in this program, children gain skills in reading comprehension, grammar and critical thinking. By giving their time to help others – and using their reading skills to make a difference in their community – students experience empowerment and learn the value of community service."
In the photo at top, Elementary Nurse Leaha Urdang and Principal Rebecca Toleman get pied. In the second photo, Nichole Weber's class with the book read by their whole school, "Winter According to Humphrey." 
View more photos in our Facebook album.