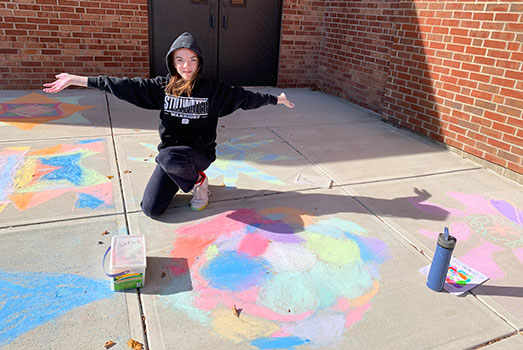 Stillwater's 6th grade students celebrated elements of Diwali the week of Oct. 24 by creating rangoli designs as part of their Global Read Aloud initiative and India study unit.
The students are reading the Global Read Aloud book "Strong as Fire, Fierce as Flame," which is set in India. They joined the book's characters in celebrating Diwali, a Hindu holiday, by creating rangoli designs in colored chalk outside their school building's main and gym entrances.
Placed outside doorways, rangoli designs are thought to bring good luck to a home and family.
Global Read Aloud is a free, international program with a goal of using "one book to connect the world." Since its inception in 2010, more than 4,000,000 students from more than 80 different countries – including Stillwater's students – have participated.