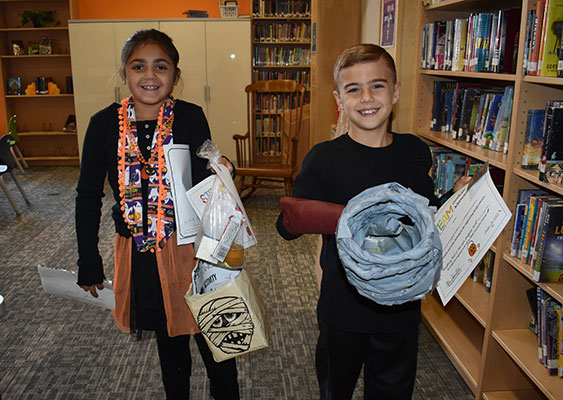 Stillwater Elementary launched a new Science, Technology, Engineering, Art and Math (STEAM) program this fall for students in kindergarten through fifth grade. Besides participating in a dynamic on-campus program led by teacher Wendy Johnston, students tackled their first-ever schoolwide at-home STEAM Challenge in September and October.
"Who's ready to get creative and solve this trick or treating conundrum?" the students were asked. They then read the challenge – to create a trick or treating candy bucket from newspaper and tape – and brainstormed ideas for a solution, followed the engineering design process and improved their original ideas by adjusting, fixing or embellishing.
The students had from Sept. 26 through Oct. 14 to create their buckets, which were then displayed in the Elementary library. They were awarded certificates and a coupon for a Stewart's ice cream cone and were recognized for taking on the optional challenge at an Oct. 28 ceremony.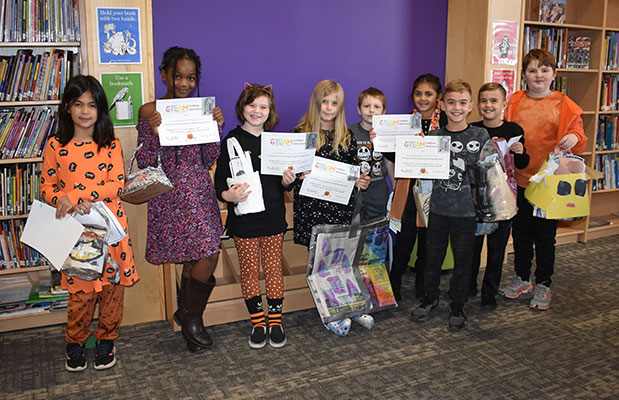 Visit our STEAM photo gallery for more photos from the STEAM Challenge ceremony.
Mrs. Johnston previously taught fourth grade at Stillwater and is leading students through STEAM-centered challenges, projects and activities. She also launched a STEAM webpage to highlight news and events and provide resources for students, staff and families.