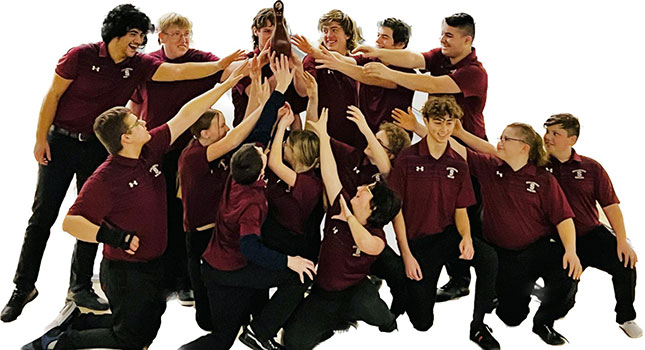 Our bowlers rock! From Coach Jim Martin:
On Wednesday evening, [Jan. 4, 2023], the Stillwater and Mechanicville bowlers competed in the fifth annual Hometown Showdown.
Pins were flying as scores of 227 by Connor Julian, 206 by Aden Wickham, and 205 by Alex Mell helped Stillwater pull out to a 76-pin lead, winning the opening game 1168-1092.
Not to be outdone, Mechanicville caught fire and punched back in game two. Despite Aden, Alex, and Evan Coe all topping 200, Jason Walker's 254 and Chris O'Connor's 232 led the Red Raiders to the game two win by a score of 1220-1138.
Heading into the finale, the opening games were split, and the overall score was separated by just six pins.
Warrior captains Connor Julian and Adam Conklin then rallied their squad, and the Warriors delivered a knockout blow in game three! Aden and Alex topped 200 once again, scoring 239 and 223, while Adam posted a 213 and Connor chipped in a 206 game. When the dust settled, Stillwater had taken game three by a score of 1248-1093 and won the overall match 3554-3405!
It was an excellent performance by both teams, and an exciting match. Great job, bowlers!!
[photo by Diana Miller]