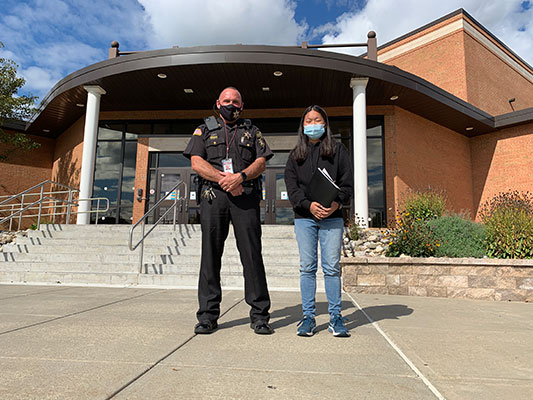 Some students are unsure of their career goals and are exploring their options even as they reach their final years of high school. Others have known 'what they want to be when they grow up' since before they can remember. Mei Lei Urbanski is one of the latter. Inspired by an uncle who served as a State Trooper, the Stillwater senior has wanted to work in law enforcement her whole life. Yet she continues to explore.
"I want to work in law enforcement in the U.S. Coast Guard, and I've been involved in the Saratoga County Sheriff's Explorer program for two years, after hearing about it from a friend," Mei Lei said.
As for her plans for the fall, she said, "I'm looking into military colleges and am applying to the Coast Guard Academy.  I'm [also] preparing to take the PFE (Personal Fitness Exam)."
This school year, Mei Lei is job shadowing Stillwater School Resource Officer Deputy Sean Lyons. A recent Friday afternoon found her peppering Deputy Lyons with a wide range of career-related questions – she had a whole page of them – as she accompanied him walking on campus rounds.
"How often do you go to court? What college degree is best for law enforcement? What types of training and certifications have you completed? Deputy Lyons fielded those questions and more, connecting facts and training with real-life experiences to give Mei Lei a detailed picture of the law enforcement field and its many opportunities.
He also offered her some key advice. "When I train people [in law enforcement], the first thing I tell them is to treat people the way you want to be treated," he said. "Even if you feel you don't like them, talk to people and treat them well. That way you can level with them, and it's going to go a long way. I've had very few physical altercations in my career and have even had people thank me for treating them well."