The Stillwater Board of Education has recognized district staff who were appointed tenure during this school year and last spring, when in-person recognition could not be held due to the pandemic.
At their April 27, 2021 meeting, the board recognized 2020-21 tenured staff Jenna Hiltsley, Emily Malinowski, Danielle Wright, Sherri Dockum, Hillary Ovsak, Monica Perniciaro and Jennifer Oliver-Goodwin.
At their June 8, 2021 meeting, the board recognized the following staff who were tenured in May 2020: Timothy Hulihan, Abigail Kelley, Jessie Mochi, Micaela Dunn, James Martin, Collette Hildebrand, Rebecca Ellsworth-Wlazlo, Patrick Foxton, Heidi Giebel, and Clint Froschauer.
Congratulations to all on achieving tenure.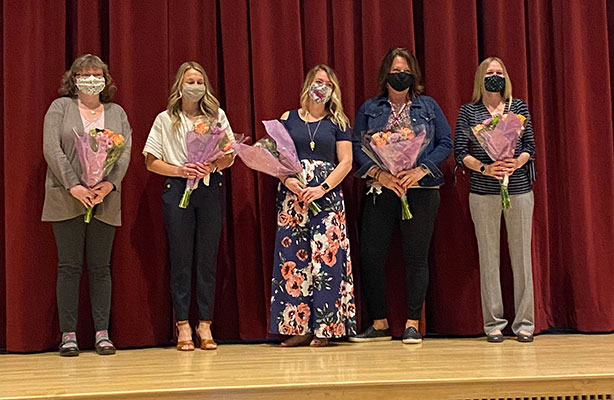 From left: Jenna Hiltsley, Emily Malinowski, Danielle Wright, Sherri Dockum, Hillary Ovsak.  Not pictured: Monica Perniciaro and Jennifer Oliver-Goodwin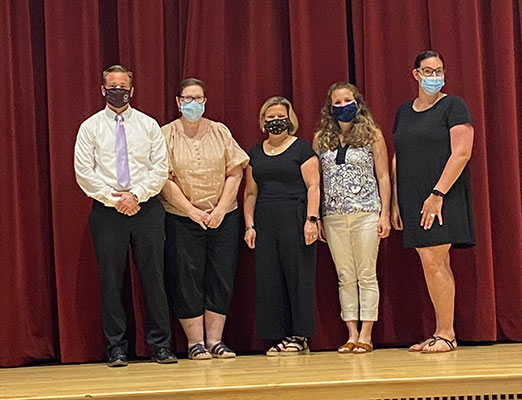 From left: Timothy Hulihan, Heidi Giebel, Collette Hildebrand, Jessie Mochi, Abigail Kelley.  Not pictured: James Martin, Micaela Dunn, Patrick Foxton, Rebecca Ellsworth-Wlazlo, Clint Froschauer