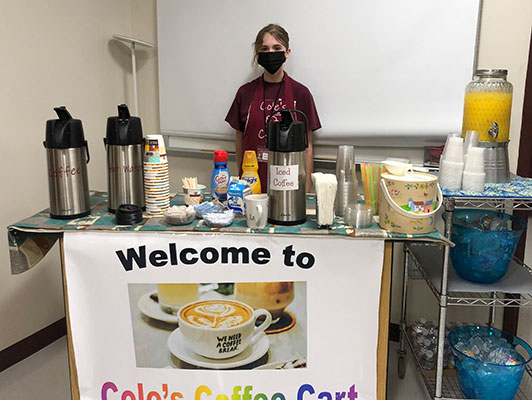 The office of Pupil Personnel Services and Cole's Coffee Cart partnered to bring to the district a celebration of community and friendship on May 27. A school-day open house at the office's new location in the middle school/high school provided an opportunity to showcase the talents of students who catered breakfast and provided tours of the new space.
The students participate in the Cole's Coffee Cart program, and this was their first special catering event. Cole's Coffee Cart is coordinated by middle school/high school teacher Bridget Cole, teaching assistant Angela Coe and teacher aide Joanne Boucher as a program through which students build a variety of work-based skills, including academic, social and employability skills.
In an email to Director of Pupil Personnel Services Carolyn Manzella, middle school/high school librarian Amy Carpenter wrote to "compliment the excellent catering staff": the students who carried out the event.
"I was greeted warmly at the door and welcomed in . . . I was shown around your lovely space and given a brief overview of each of your locations. Following that thoroughly enjoyable experience, I was brought to the beverage center where the staff person briefly introduced herself and acquainted me with all the offerings on hand, as well as directing me to the conference room to explore my food options.
"The young man in the conference room also greeted me enthusiastically and not only gave me an excellent rundown of the available food offerings (which all looked delicious!), upon my request, he recommended two items particularly to me (the coffee cake and fruit parfaits, which he had helped to make). Unfortunately, I was not able to stay and enjoy my treats, as my work took me elsewhere, but I can assure you that he was correct – both were delicious and an excellent choice to brighten my day."
Millie Collette, a teacher aide, agreed. "Mrs. Cole's class did an amazing job. This was great," she said.
Fourth grade teacher Wendy Johnston also emailed Ms. Manzella about the event. "Your office suite is beautiful, though completely outshined by the amazing tour guides, hosts and hostesses. The kids are truly incredible and reflect all the time, effort and love that you all contribute daily. Well done, everyone!"