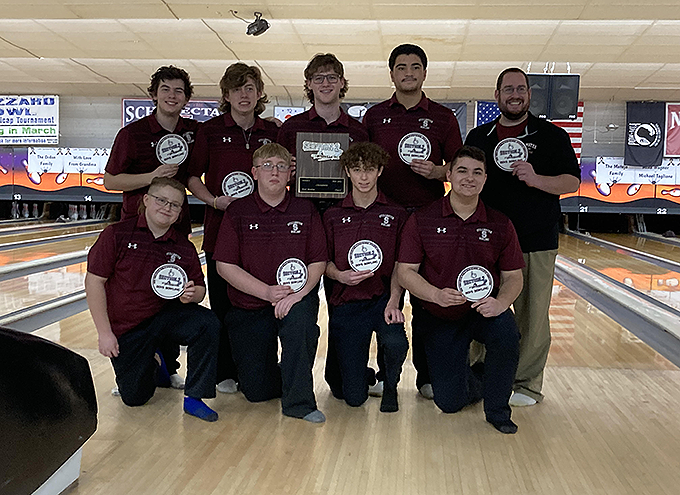 Congratulations to our bowlers on yesterday's big win! Here are all the highlights from Coach Jim Martin:
The Stillwater Bowlers are your 2023 Class C Sectional Champions! It was a sluggish start to the day, falling behind by 100 pins early; however, the boys rallied back with a huge game three, thanks to a 253 game by Connor Julian and 236 game by Aden Wickham. The comeback positioned Stillwater in first place, ahead of Hoosick Falls by 40 pins, as we headed into the lunch break.
After lunch, it quickly became a two-team race, with both Stillwater and Hoosick Falls pulling away from the field. Connor came out firing with a 267 game and the team as a whole posted a solid 1004, but Falls had an insane team game and pulled back into the league.
Stillwater then caught fire in game four, when Connor rolled a 213, Aden bowled a 227, Evan Coe threw a 235, and Alex Mell chipped in a 220. The Warriors flipped back into the lead by just a slim 18 pin margin going into the sixth and final game.
After the long day, both teams began to struggle with lane conditions and fatigue, and heading into the final bowlers of the tenth frame, the score was a virtual tie. Aden delivered when it mattered the most, throwing the front two strikes, while the Hoosick Falls anchor was unable to match. At the end of it all, the boys took home the win by just 16 pins, 5870-5854. While our score was not high enough to advance to the state tournament over the class B champion, it was a fitting end to an incredible season!
Connor Julian also had the honor of bowling the highest six-game series of the day with a 1369. The section sends an all-star team of the top 6 performers across all classes, and Connor is in position to potentially earn a spot on this all-star team. It will all depend on today's results in the class A sectional.
It's been a magical journey. Thanks for all the support for the boys this year.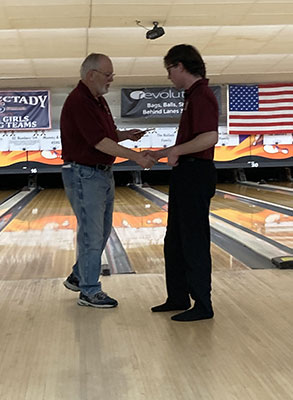 In the media:
Feb. 14 Daily Gazette:
High Schools: Stillwater claims Section II Class C boys' bowling crown
Feb 14 Times Union:
Stillwater holds off Hoosick Falls for Class C Bowling title
https://www.timesunion.com/hssports/article/stillwater-holds-hoosick-falls-class-c-bowling-17782413.php?IPID=Times-Union-HSsports-spotlight