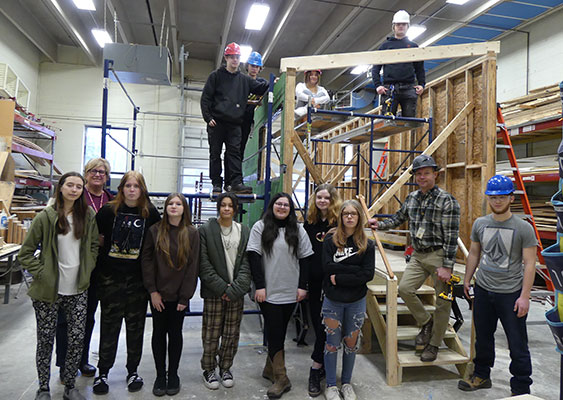 A group of Stillwater ninth and tenth grade students explored educational and career opportunities hands-on during the WSHWE BOCES Women in Trades mini career expo on Friday, Feb. 10. The event opened the students' eyes to many possibilities, including some they might not have considered.
The group visited classrooms and toured the F. Donald Myers Career and Technical Education (CTE) Center, which offers high school juniors and seniors a range of programs from automotive trades and construction to welding and heavy equipment operation, among others. They learned about professions where women may be underrepresented, but which offer rewarding careers. The students were accompanied by Stillwater High School Principal Carolyn Manzella.
Stillwater's group was able to speak not only with current CTE teachers and students, but also with employees of businesses who attribute their success to CTE education and training. Participating businesses included Saratoga Honda, The Fort Millers Group, DA Collins, Cifone Construction and Saratoga Springs City School District.
The mini career expo illuminated the many pathways available to today's students. The day even may have changed one student's career aspirations completely. Stillwater freshman Aliyah Gilmore (pictured below operating a virtual welder) told Principal Manzella, "I thought I wanted to come to BOCES for cosmetology, but now maybe I will do welding."