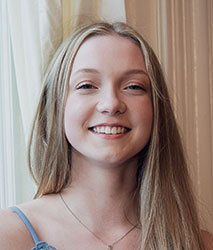 Stillwater Class of 2022 valedictorian Paige  Womble is a high-achieving student who is both a leader and an explorer. She's been active in student government, serving as president during her sophomore year, as treasurer of the yearbook club and as a member of the volleyball team in ninth and tenth grade. Seeking to define her career goal, Paige participated in job shadow, internship and mentorship programs during her high school years and is now focused on becoming an architect.
Paige has attended Stillwater since kindergarten. When asked what she likes best about the district, Paige said, "Throughout high school, I've seen what other schools are like, in our area and farther out, for students and teachers and I like everything about Stillwater. I'm glad this was the school I got to grow up in, and I know everyone here!"
Paige thanked all of her teachers and her guidance counselor, Lisa Miller, "for all of the career exploration experiences I've had." She also thanked her mentors in the Architecture Construction Engineering program, and her parents for "supporting me through all of my decisions."
After graduation, Paige plans to enroll in a five-year architectural master's degree program, with Wentworth Institute of Technology in Boston as her top college choice. Paige is still deciding whether to work in commercial or residential architecture, but she plans to sit for the national Architect Registration Examination.
When asked what advice she'd offer fellow Stillwater students, Paige said, "The earlier you can find out what you enjoy and the more experience you can get, all make your decision so much easier and stress-free."
Salutatorian Ryan Golden plans to engineer clean energy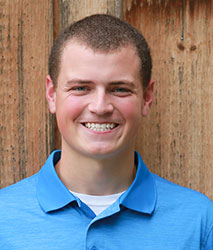 Stillwater Class of 2022 salutatorian Ryan Golden is an accomplished student and a leader both in the classroom and on the athletic field. He has been a member of the soccer team since ninth grade and served as captain the past two years. Ryan's also been a member of the baseball, lacrosse, bowling and alpine ski racing teams. He's been active in the varsity club and National Honor Society.
Ryan has attended Stillwater schools since moving to the district in fourth grade. Reflecting on what he likes best about Stillwater, he said, "The students are more welcoming and supportive here than at other schools, and basically, the people here make the school more enjoyable."
Outside of school, Ryan loves to ski during the winter and fish during the summer, "a lot," he said. "It's my main hobby and I fish off the boat in Saratoga Lake or the Hudson River."
Ryan thanked "Coach West and Mr. McC (McClements) for always being available to help with anything, no matter what the topic – school, college or life." He thanked his parents for "supporting me through all of school. Even when they are busy with other things, they are always available to help." And he thanked "all of my friends for making every day enjoyable."
When asked what he will miss most about Stillwater, Ryan said, "I'll miss how friendly our grade is. It feels like I'm part of a big friends group where you know everyone and everyone knows you."
Ryan will focus his future career on renewable energy, "because it's something that can help our future." He plans to major in mechanical engineering at either Clarkson University or Alfred University, and sees himself working on machines such as wind turbines.
When asked what advice he would give to fellow students, Ryan said, "Don't be afraid to ask for help. You're always going to have more questions and more to know. Reaching out and how friendly people are in our school are probably the best things that helped me succeed."