Careers in medicine await Stillwater Class of 2021 Valedictorian Kiersten Conroy and Salutatorian Teya Staie, who enjoyed a healthy competition for the top spots in their graduating class. Their college majors will be just the start of their higher education and professional goals.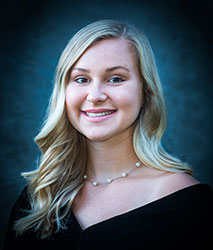 Kiersten: Pursuing a major in biomedical sciences
Kiersten is an accomplished student who's been involved in many activities during her time at Stillwater, including Varsity Club, Key Club, National Honor Society, yearbook committee, varsity soccer, indoor and outdoor varsity track and field, varsity cross country and link crew leadership program, where she was commissioner. She also served as a Spanish tutor and volunteered outside of school as an intern for Elise Stefanik's Congressional campaign.
When asked what she likes best about Stillwater, she said the sense of community and how everyone supports each other. She said what she will miss most about Stillwater are "many of the teachers who were personally invested in my success and helped me in every way they could.
"I would like to thank my teachers, specifically Mrs. Cook, Mr. West, Mr. McClements and Mr. Godfrey, who have helped and encouraged me on this path," Kiersten said "I would also like to give my biggest thanks to my family, who have taught me to never settle and always pushed me to be my best while also celebrating my accomplishments. And lastly, I would like to thank the healthy competition between myself and the salutatorian, Teya Staie, that has pushed us both to be the best we can be."
In the fall Kiersten plans to attend Quinnipiac University to major in biomedical sciences. She will study toward a future profession in anesthesiology or neurology.
When asked what advice she would offer to fellow Stillwater students, Kiersten said, "The biggest piece of advice I can give is to push yourself with challenging classes, but also to ask for help whenever you need it. Teachers want you to succeed, and they will help you do your best."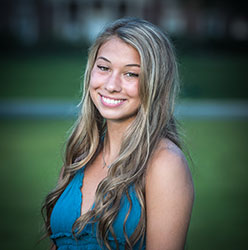 Teya: Will major in nursing
Teya has been an achiever in the classroom and on the athletic field during her time at Stillwater, where she served as class secretary, National Honor Society member, varsity soccer team captain, and member of the link crew leadership program and varsity indoor/outdoor track team.
When asked what she likes best about Stillwater, she said, "I liked how involved the community is and how everyone is so close and supportive of one another. We are all one big family!"
When asked what she will miss most about her home school district, Teya said, "I will definitely miss playing soccer for Stillwater the most. I will also miss my teachers and my classmates that I've grown up with.
"I would like to thank my parents and sibling for pushing me to do my best and always being supportive, my teachers for always being there for me and giving me their time when I needed extra help (Mrs. Cook especially), and my teammates and coaches for helping to make me the player I am today. "
Teya, who plans to major in nursing, will attend Siena College in the fall. After college, she plans on working as a travel nurse for a couple of years and then eventually becoming a surgical physician assistant or an acute care nurse practitioner.
When asked what advice she would offer to fellow Stillwater students, Teya said, "Time really does go by fast, so cherish every moment you have, because it's going to be over before you know it. Set goals for yourself and work as hard as you can until you achieve them. In five years you aren't going to remember the silly things that seem like the end of the world while you are living it, so just let them go and do what makes you happy and don't apologize for it."
Related article:
Read about our Class of 2021 Top 10 seniors (there are 11 of them!)