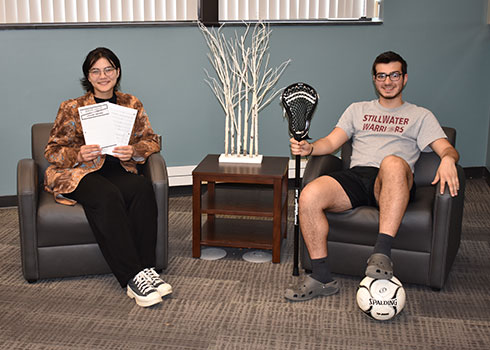 Class of 2023 Valedictorian Nurshinta Berry and Salutatorian Amoun Ghorayeb have worked hard throughout their years at Stillwater, but when asked for advice, they said, "Don't let school get in the way of fun. A balance of school and passions is necessary for success."
The accomplished seniors have found enjoyment on campus and off, whether it's through music or theatre, soccer or lacrosse, summer job field trips or club sports, or just hanging out with friends and family.  Their belief in fun shows in the photos below, where they came up with some creative ways to illustrate their interests.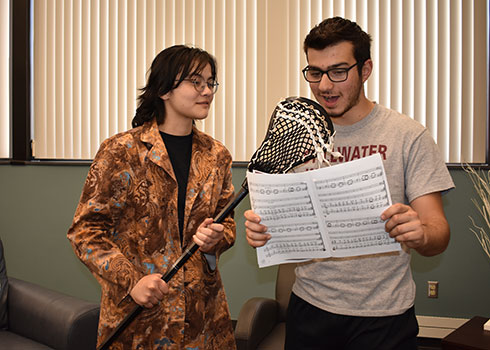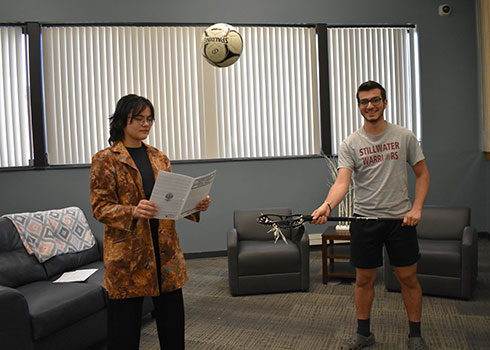 Nurshinta Berry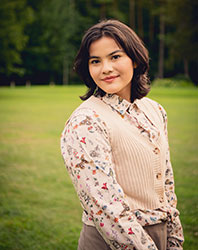 Nurshinta describes music as "a hobby that keeps me grounded," but based on her success as a choral soloist, she's reached the stars. Nurshinta recently qualified for All Eastern Chorus after progressing to the highest level in New York State School Music Association competition.
As for Nurshinta's future profession, Stillwater's Class of 2023 valedictorian will enter the field of bioengineering, with a special focus on the environment. "I plan to major in biomedical engineering at Carnegie Mellon University in Pittsburgh and then continue my education past a bachelor's degree toward something that's more environmental than medical," she said. "I'm interested in climate change, agriculture and genetically modified organisms."
A Stillwater student since pre-kindergarten Nurshinta has long been active in Drama Club, most recently performing as Squidward in "The SpongeBob Musical." She also serves as treasurer and class representative in Student Government, treasurer of Key Club and member of the National Honor Society.
Outside of school, Nurshinta works as an afterschool program and summer camp counselor at the Stillwater Area Community Center, is active in Theatre Arts Programming of Stillwater (TAPS), and tutors. In her free time, she enjoys music, hanging out with her brother, Stevie, and viewing drama productions at other area schools.
Nurshinta recognized her friends at Stillwater for their guidance. "I thank my best friend Josh for just reminding me of what's important and what's not," she said, "and my friends Liam and Amoun for helping me academically." She thanked her parents and brother Stevie for their support and her teachers at Stillwater, "for being very passionate about what they do."
When asked what she will miss most about Stillwater, Nurshinta said, "I'll definitely miss the friends I've made here. I've been with them for what feels like forever and knowing that they won't be close distance-wise will be a tough adjustment for me."
When asked what advice she'd offer fellow Stillwater students, Nurshinta said, "Don't be scared of honoring your needs and your wants. You're always going to do your best work when you're happy."
Amoun Ghorayeb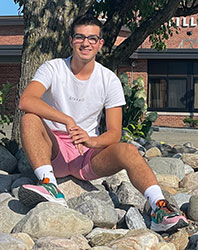 Amoun describes his high school years as a "most rewarding period of time," where he's worked hard but also made many good friends and grown as a person.
The Class of 2023's Salutatorian has attended Stillwater schools since third grade, and he recognized his family and the district's faculty and staff for their support. "I want to thank my entire family: my mom, dad, brother and sister," Amoun said. "They've been my biggest supporters and are always there for me. I've also enjoyed my coaches and teachers at Stillwater."
When asked what he will miss most about Stillwater after graduation, Amoun said, "There's a lot. Probably the closeness of everybody. I just feel really close to everyone, and sports have been like a family."
Amoun has been active in the National Honor Society, participated in indoor track, outdoor track, cross country and lacrosse, and served as captain of the soccer team.
Outside of school, Amoun enjoys hanging out with his friends, swimming during the summer and volunteering at the food pantry.
In the fall, Amoun will attend SUNY Oneonta to major in biology and study pre-medicine. His career goal, since elementary school, is to become a general practice physician."My mom's in the medical field, and I like to help people," he said.
When asked what advice he would give to fellow students, Amoun said, "Make sure you keep up with your studies and work, but also don't let that get in the way of enjoying high school. It's the most rewarding period of time, with the friends I've made," he said. "I've made a lot of memories and I've become a better person through high school."