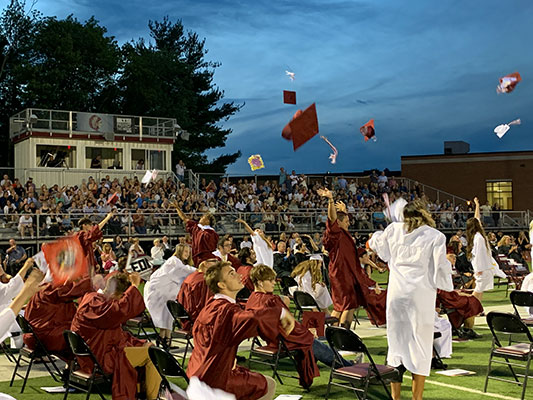 View our photo gallery on Facebook
View a livestream recording of the Class of 2021 graduation
June 25, 2021 was a perfect night in many ways for 78 Stillwater High School seniors as they walked across the graduation stage to receive their awards, diplomas and congratulatory cheers from their friends, families, Board of Education members, faculty and staff and all who attended their commencement ceremony.
The formalities began with "Pomp and Circumstance" performed by the band, Ms. Kara Pitkin and Mr. Patrick Foxton. Class President Tyler Juliano led the Pledge of Allegiance, and senior chorus members sang the National Anthem.
Principal Dr. Michael Johnson provided the welcome remarks and recognized the Class of 2021 top 10 students (there are 11 – two tied for 10th) and the Valedictorian, Kiersten Conroy, and Salutatorian, Teya Staie. Tyler, Teya and Kiersten all made inspiring speeches, a task Teya joked that she first thought she "wouldn't have to do!"
Superintendent Patti Morris sang a few lines of "Anticipation," and spoke to the graduating seniors and their families about celebrating the moment. Dr. Johnson presented the Principals Medals. Ms. Morris presented the Superintendents Medals and the diplomas and awards along with Board President Valerie Masterson and past and present board members and faculty members. Mr. Stefano Gazzelli announced the graduate's names.
After the newly minted graduates moved their tassels from the right to the left, a fireworks display rounded out the evening, followed by a tossing of the mortarboards and the performance of "March Majestic" by the band, Ms. Pitkin and Mr. Foxton.
Congratulations Warriors! You did it and we are proud of all of you!
Read more about our graduating seniors: