Why pursue a career that traditionally employs more individuals of a different gender? For female Stillwater students preparing for male-dominated careers at the WSWHE BOCES F. Donald Myers Education Center in Saratoga Springs, the answer is simple: To follow your passion.
Senior Carlie Heitmann is the only female of 22 students in her Heavy Equipment Operation & Maintenance class, but she enjoys the program, the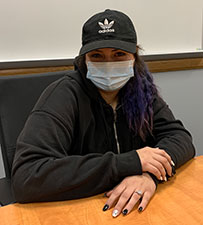 teacher and learning from classmates. Having fellow Stillwater students there is a bonus, Carlie said. "They make it more comfortable."
After growing up around heavy equipment, she said it "seems natural to go into the trade. My dad owns Lake Auto Parts in Ballston Spa, and we use heavy machinery to move cars around. I have an internship there now." The family company is central to her future plans. "After graduation, I'll go to college to major in business and minor in gas motor engines, and later run my dad's business."
Helping dad also figures in Tori Surprenant's passion for things automotive. The Stillwater junior is studying Auto Body Repair at the Myers Center. Tori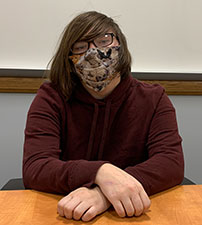 speaks enthusiastically about the class, which allows her to combine her enjoyment of working on cars with a love of art.
"I draw 24-7, painting is my stress reliever and cars fascinate me," she said. "It's special to work with my dad to fix cars after school, and I like to help people. So, Auto Body class suits my needs to be creative and make people happy by fixing their cars."
Just three of the students in Tori's Auto Body class are female, but everyone teams up to work on projects and learn. "We have a really friendly, hands-on community there," Tori said. "It's pretty good for socialization, and it's fun to be able to do what you want."
After high school, Tori would like to work in both mechanical and auto body repair, possibly at her uncle's shop. "I have a background working under the hood," she noted.
Working in a family business is also part of Stillwater junior Madalyn (Maddy) Byrnes' school and career focus. At Byrnes Tree Service in Waterford, Maddy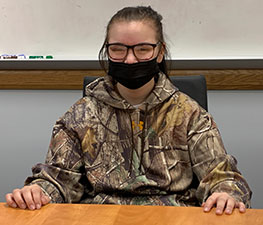 helps her father split and stack firewood, drag brush to the chipper and now, because of her enrollment in the BOCES Environmental Conservation & Forestry program, run the chainsaw. "I wasn't allowed to operate it until I took the class," she said. "Now I've got to sharpen his chains. We learned that in class, too."
Maddy had considered becoming an environmental conservation officer, but now has her eye on a career in arboriculture, where she will prune, cut and remove trees, perhaps for a utility company. "A NYSEG worker who coordinated Saluting Branches of Service Day, where our conservation class trimmed trees at Saratoga National Cemetery, reached out to me and we've been corresponding over email," Maddy said.
She said her favorite part of class is "being able to work with all of the different students from different schools, who have different techniques and ways of doing things. It's fun just to work with all of them."
Being one of just four female students in her class doesn't bother Maddy, but she said some may worry about working in a male-dominated trade. "The other students tease me about not being able to pull the chainsaw starter while holding it the same way they do, but that's just how they are," she said. "But it's cool being in class, and most of the boys and the instructor are excited to have a female student there because it's different."
Maddy shared her experiences with ninth and tenth grade students this fall through a Women in Trades initiative that toured them through career programs like hers. "Just because you're a girl, you don't have to go into a [female-dominated] career," she notes. "You can go out of your comfort zone, try something new and also learn useful things, such as how to cut a tree or change a car's oil."
Stillwater junior Madison Brahm spends her afternoons in the Criminal Justice Studies program at the Myers Center. While the criminal justice field has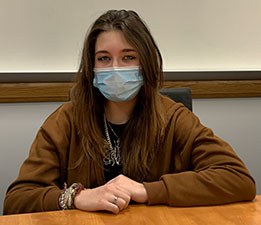 opened to more women than some other professions, Madison is often questioned about her specific career choice: to become a homicide detective with the FBI.
"People ask, are you sure you really want to do this, and I say yeah, I want to, really bad. I've wanted to investigate homicides since I was younger, in middle school," she said. "And I watch a lot of crime shows." After high school, Madison plans to further her criminal justice studies at Salem State University in Massachusetts.
Madison enjoys her Criminal Justice class, which is split between male and female students, and their "high-energy teacher." She speaks highly of "how many opportunities you get to learn and to participate there.
"There's a lot for students to become involved in, like SkillsUSA competitions, field trips to colleges, and community service, like providing security at open house and the Saratoga car show. If I had to give advice to younger students," Madison said, "I'd tell them about all of the opportunities we have in the program."
When asked what she would tell a younger student considering a career that employs fewer people of their gender, Carlie said, "If you really want to do it, then do it for yourself. You don't choose a class just to be the only girl in it."
Tori advises younger students looking for direction to, "Ask yourself what would be a good area to work in – for me, it's a career where I can paint and design. Expand your friendships, find similarities, and if you are interested in cars, work on them and have a good time!"
Maddy summed it up. "I was nervous at first in class, but I love it. It doesn't hurt to try something new. Just go for it!" she said.
[Note: This article originally appeared in our winter newsletter.]