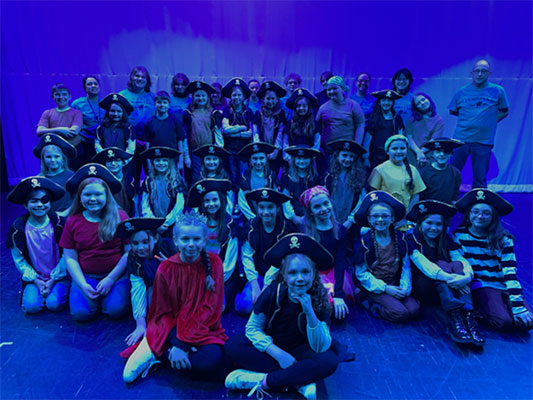 Article by Jim Iacketta & Rachael O'Neill
The Stillwater Elementary School Drama Club presented "Pirates 2: The Hidden Treasure" on Friday, Jan. 20, and Saturday, Jan. 21. The cast and crew enjoyed performing for some of the largest audiences the elementary school has seen in recent years, and everyone went home with a huge smile on their face!
This cast of 4th and 5th grade students spent the past four months rehearsing every Tuesday and Thursday afternoon, practicing their singing, acting and dancing skills, and learning how to become a team of pirates looking for adventure and hidden treasure on the high seas! ARRRRRR!!
This band of pirates almost gets shipwrecked by the storm of the century, and fear they may stranded forever on a deserted island. But, with the help of the Queen of the High C's , they come to realize the real treasure to be found is one of friendship, caring and kindness.
The production was directed by Miss Rachael O'Neill and Mr. Jim Iacketta. And, with the help of a dynamite crew of talented high school student assistants, this show will be remembered as one of the highlights of the school year!
Mr. Joshua Hoyt, class of 2023, also co-directed and choreographed the production. As he is pursuing a career in musical theater, his involvement in this year's production brings everything full circle, as he was the star of the 2016 production of "Pirates 2." Good luck in college next year, Josh! We will miss you, and thank you for all your assistance and guidance with the Elementary Drama Club. You are awesome!!
A huge drama club shout out goes to our parent support group for costumes, scenery, transportation from the rehearsals, and moral support throughout the last four-plus months.
Enjoy some photos from our performances – At top: The cast and crew of "Pirates 2: The Hidden Treasure."
In the photo below: Students performing the opening number, "A Pirate I Will Be!"