By James Iacketta
On Thursday, Aug. 4, some of our elementary students attended a Guilderland Town Band Concert at Guilderland High School.
Second grader Cecelia DeMartino and fifth grade band members Michael DeMartino and Alden Maiello attended the town band's third and final concert. They also met the band's conductor, Kathleen Ehlinger, who promptly invited them to experience the concert from the stage. To say they were excited for this opportunity would be an understatement!
The students were able to meet several of the band members, and sat in the middle of the percussion section, right by Mr. I as he played his parts. All three students were seen moving and dancing to the music, which included a few marches, a couple of longer selections, some popular tunes, and a xylophone feature played by a recent Guilderland High School grad! Cecelia really liked that!
Afterwards, Mrs. Ehlinger asked the students what they liked about the concert, and Cecelia promptly responded, "EVERYTHING!" Mrs. DeMartino, Michael and Cecelia's mother, who is a Guilderland alum and had performed in the school's orchestra during her high school career, said they're already making plans for next year's season! By the way, Michael and Cecelia had attended the band's second concert as well! Way to go, guys!
And, Mr. I, along with the rest of the music department, is already working on ways to get more of our students involved in music outside of school, so they can see what is available to them as lifelong learners of music! We invite you and your children to experience the benefits of the quality music education provided at Stillwater CSD and appreciate your support!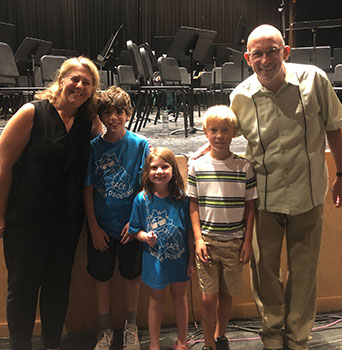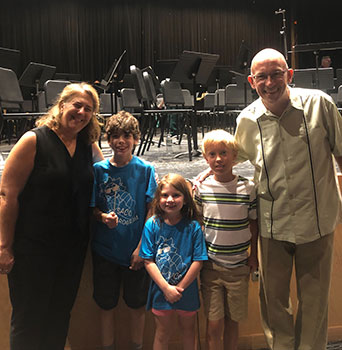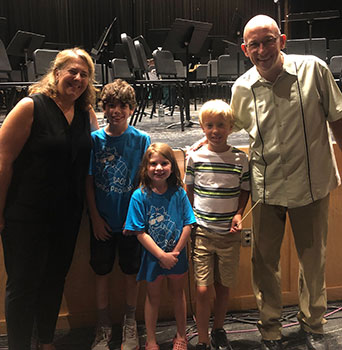 In the photos: Passing the baton
From left to right: Guilderland Town Band Conductor Kathleen Ehlinger, 5th grade band baritone player Michael DeMartino, 2nd grade student Cecelia DeMartino, 5th grade band trombonist Alden Maiello, and Mr. Iacketta. Each picture has a different student holding Mrs. Ehlinger's baton.