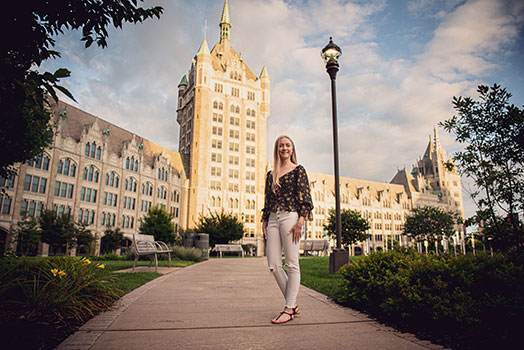 When she was very small, Paige Womble wanted to be a singer or an actress, a "like a lot of little kids," a goal, she said, that was fleeting. As she reached middle and then high school, the Stillwater senior was still unsure about her career direction. An idea from her mom and a job shadow and internship confirmed Paige's decision: she will become an architect.
"My mom would mention things I could do, and suggested being an architect," Paige said. "I was initially opposed, but the more I thought about it, the more I liked it. Art and math have been my favorite classes, but until I found architecture, I didn't have any idea of what I wanted to do with my life. It's kind of a big question for a middle or high schooler."
Paige's guidance counselor helped her arrange a job shadow for the second part of the 2019-20 school year with Margie Miller, an architectural representative with Curtis Lumber. "We began talking in February 2020, and I went to work with her for a day that June, visiting architectural firms," Paige said. "I learned about how she started in construction and went on to become an architectural rep."
Last summer, Paige completed a paid, four-week internship with Gilbane Building Co., a national contractor with offices in Albany. The internship was offered through the ACE (Architecture Construction Engineering) mentorship program, which Paige learned about from Stillwater 2021 senior Alan Conklin. Alan had been active in ACE since his freshman year, and Paige remains involved.
"My summer 2021 internship at Gilbane was a very cool experience and wasn't what I expected," Paige said. "I hadn't known how much collaboration takes place in that industry. I sat in on planning meetings for projects being worked on and estimating meetings for [future] projects with architects, structural and mechanical engineers, and construction managers. I visited job sites and buildings.
"The design piece is what drew me to architecture vs. construction," she said. "I also learned what I didn't want to do as an architect – build the same kinds of projects each time – but instead design different types of buildings."
Paige isn't sure whether she'll work in commercial or residential architecture. She would like to "try it all and see what I like best." A high-achieving student who will have earned up to 18 college and Advanced Placement credits by graduation, she plans to enroll in a five-year architectural master's degree program. Her top college choice is Wentworth Institute of Technology, Boston, which is accredited by the National Architectural Accrediting Board and prepare students for the national Architect Registration Examination. She's also considering other colleges.
No matter where she studies after high school, Paige is well on her way to designing a rewarding future, thanks to career exploration opportunities at Stillwater. She advises fellow students not to procrastinate when considering their options. "The earlier you can find out what you enjoy and the more experience you can get, all make your decision so much easier and stress-free."
In photo at top of page: Paige stands outside the SUNY Administration building in Albany, a structure known for its impressive architecture.
[Note: An earlier version of this article appeared in our winter newsletter. Since that time, Paige has been named valedictorian of the Class of 2022. ]