While their specific job goals may differ, Stillwater seniors Sebastian Salway, Myles Townsend and Justin Reilly are confident about entering the workforce right after graduation, thanks to the Heating, Ventilation, Air Conditioning and Refrigeration (HVAC-R) program at the WSWHE BOCES F. Donald Myers Education Center in Saratoga.
Sebastian finds the HVAC-R program to be "very hands-on and very enjoyable." He was inspired to enroll in the class by the success of his family members. "My cousin is a union electrician, and that piqued my interest in learning HVAC-R," Sebastian said. "Also, my stepfather is a contractor and mason. Like them, I'll be earning money by going right to work after graduation. I'll build my money and start a life."
Myles has enjoyed plumbing since his early teens, "doing little jobs to help family and friends," and plans to work in the trade after high school. "BOCES offers more hands-on opportunities, and I thought it would be good to learn about HVAC-R," he said. "My uncle owns a plumbing business in Cortland County, NY, and I may work there after graduation or, if I intern on-site by the end of the school year, I might stay in the area."
Justin said he "wanted to try a trade and thought HVAC-R was interesting." He also had an interest in electrical trades and enjoys that aspect of the program the most. While not focused specifically on HVAC-R, Justin's current internship at the Saratoga Holiday Inn is adding to his workplace skills. As for the future, Justin "plans to look for employment in the HVAC field, and my dream job will include electrical work."
The hands-on learning, teaming with students of similar interests and real-world experience offered by career and technical education (CTE) programs like HVAC-R not only help students like Sebastian, Myles and Justin prepare for the future – they also keep students engaged, all the way up to graduation.
"I've seen younger students who are reluctant learners and not attending school consistently turn around and move forward academically when they enroll and connect in a CTE program. Therefore, our schools need to continue providing these opportunities for all of our students," said Carolyn Manzella, interim high school principal. "Some students come to school just because of CTE, and in June, I will be thrilled and very proud to see them walk across the stage to receive their diplomas."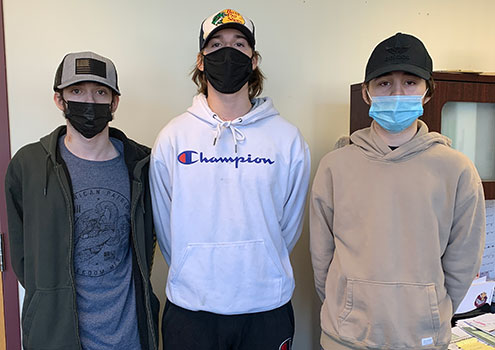 From left: Sebastian Salway, Myles Townsend, Justin Reilly
[Note: This article originally appeared in our winter newsletter.]