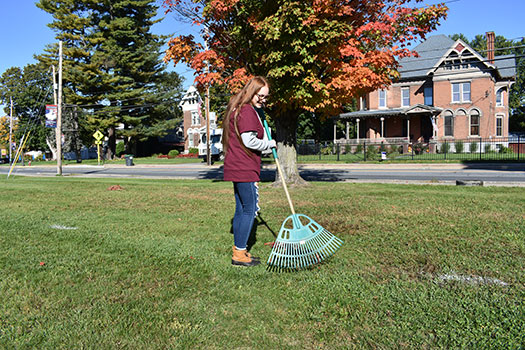 Notebooks, computers and desks were exchanged for rakes and shovels, wheelbarrows and scrub brushes, paint and brushes, and buckets and trash bags when Stillwater's freshmen class observed Give Back Day on Oct. 6, 2022, sharing their effort, energy, time and service for the betterment of their community.
Give Back Day is a tradition that began several years ago, with a goal of volunteering, serving and helping others. The class of 2026 cleaned up various sites throughout the village and town, created promotional posters for the upcoming fall festival, and volunteered at the National Cemetery. Other students lent a hand outdoors at their school's campus.
Give Back Day 2022 sites in the community included the Stillwater Public Library and fiber mill, Block House Park and other local parks, the Saratoga National Cemetery, Stillwater Area Community Center, the town cemetery and surrounding areas. Groups of freshmen were led by student leaders and accompanied by faculty and staff during a beautiful fall day. It was perfect weather for giving back.
"Give Back Day began approximately 10 years ago and has always involved freshmen, with student leaders coming from our National Honor Society chapter and senior class members who volunteer," said Stillwater K-12 Assistant Principal Clint Froschauer. "The day was great on all fronts. Students, teachers and community members all enjoyed the day."