The following letter was emailed on June 8 to high school families
June 8, 2023
Dear High School Families:
We are nearing the end of the school year, with Regents exams starting next week in the high school. Our faculty, staff and students have worked hard all year long to prepare for finals and Regents, and we are confident that our students are well prepared.
The last day of regular classes will be Monday, June 12, 2023.
A local finals day will be held on Tuesday, June 13, 2023, and students only have to be present for the time of their exam on this date (see schedule below this letter). Regular transportation schedules will be followed on this day. More information about transportation during Regents weeks follows below.
Regents exams are a NYS graduation requirement and appear on a student's official high school transcript. Students are required to earn at least a 65 on required Regents exams to satisfy the graduation requirement.
Information related to Regents week 6/14/23 – 6/22/23 (see schedule below this letter)
Teachers may be holding Regents Review Sessions throughout Regents week. These schedules will be provided to students by the specific teacher.

 

Regents exams will begin at 8 a.m. and 12 p.m. Exam time allotment is 3 hours. No student can leave before the 2-hour minimum time period. There will be space in school for students who complete the exam before the end of the exam period and need to use school transportation.
During Regents weeks, buses are available in the morning and end of day at the usual pick-up and drop-off times. If your child has an afternoon exam and uses the full 3-hour exam time period, they can access a bus home on the elementary school run.
If your child has ONLY a morning exam, there will be an 11:15 a.m. midday bus to bring your child home. This bus will NOT pick up students for afternoon exams. For students who only have an afternoon exam, they may either ride the morning bus to school, or find their own transportation to school for the afternoon exam.
Throughout the Regents exam period, it is not necessary for your child to sign in and out of the building and/or provide a note for leaving before or after the scheduled exam.
Thank you for your support and cooperation as the school year comes to an end. If you have any questions, please feel free to reach out.
Sincerely,
Clint Froschauer
Interim High School Principal
Regents exam schedule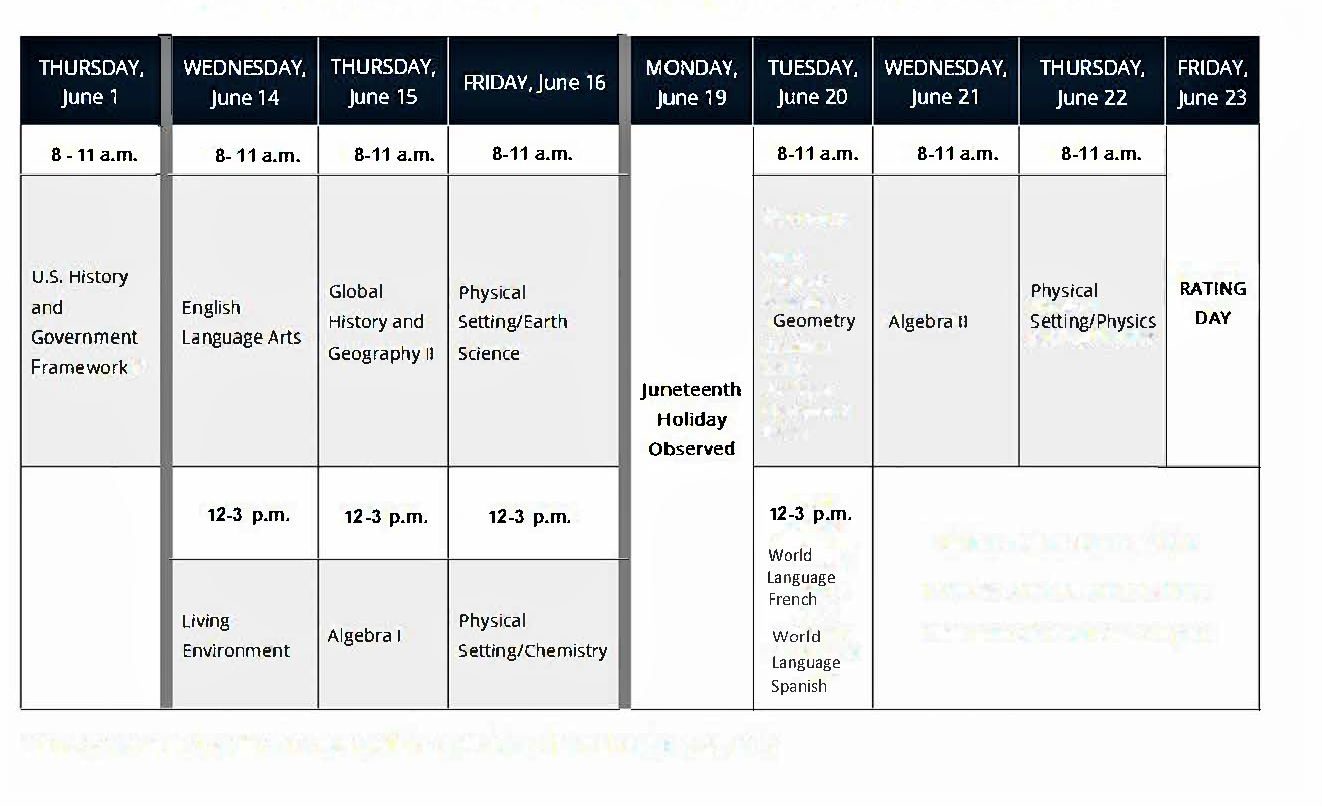 Tuesday June 13, 2023 schedule – Local finals:
7:30 – 7:40 a.m.:
All students report to 1st period, and then will be released to breakfast.
8-10:30 a.m.:
English 9 final
English 10 final
10:30-11 a.m.: Lunch
11:30 a.m. – 2 p.m.:
Global 9 final
Global 10 review for all 10th grade students
PreCalculus final
Calculus final