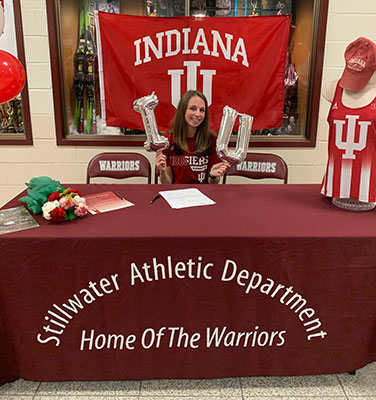 Stillwater High School track and field standout Kelly Moran officially signed a letter of intent with Indiana University for D1 track and field at a Dec. 16 ceremony in the high school gym lobby.
In addition to competing in track at Indiana amongst the Big Ten Conference, Kelly plans to major in business.
Kelly's athletic accomplishments at Stillwater include triple jump, long jump and the 200-meter. Her academic accomplishments include achieving Principal's List by earning an average of 96 or above throughout her entire high school career. She is also involved in numerous school activities, serves as student government president and is a member of the National Honor Society.
"Congratulations to Kelly for committing to Indiana University for track and field, where she will compete in jumping events," said Mike Kinney, Stillwater's athletic director and physical education department chair. "It's an amazing accomplishment for an athlete from a smaller school to have the opportunity to compete at a Division 1 track and field program."