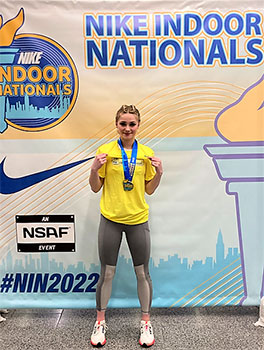 Stillwater senior Gianna Locci excelled in two national competitions the weekend of March 11-13, finishing on the podium after long jumping against some of the country's top athletes and earning All American status.
In New York, Gianna is the NYSPHSAA long jump champion, a title earned after jumping 19 feet, 5 inches at the state competition in early March. In November, Gianna signed a letter of intent with Duke University during a ceremony at Stillwater High School.
An article about Gianna's latest accomplishments, submitted by Chris Locci, her dad, follows below.
Gianna Locci finishes her high school indoor track season making national podiums in two separate national competitions, held on the same weekend of March 11-13, 2022. The senior was personally invited to attend both Nike and New Balance National Indoor Track & Field Competitions. There was a lot to consider! Qualifying for a chance to compete in the Championship events requires meeting exceptionally high qualification standards in the events.
Competitors finishing in the top six positions of National Championship events are awarded All-American status. Gianna qualified for a total of five Championship events between the two venues and juggling schedules would be a challenge. After careful consideration, she ultimately decided to compete in the Championship Long Jump event at both venues, giving her a chance to compete against all of the top long jumpers in the country!
The first Championship Long Jump competition was Nike Nationals at Ocean Breeze in Staten Island. The competition consisted of 19 jumpers; seven of the girls in this Championship competition had posted jumps over 19 feet this indoor season! Gianna made finals and finished second with jump of 19-6.75, earning the silver medal and her first All-American award of the weekend!
Then Gianna traveled to the mecca of indoor track and field, the Armory in New York City, for the second Championship competition at New Balance Nationals. The competition at this Championship event consisted of over 30 jumpers. Ten of those athletes each posted jumps over 19 feet during this indoor season and two of the girls had previously posted 21 foot jumps!
The competition was exhilarating! Gianna leaped into second place, qualifying for finals behind the US#1-ranked high school long jumper. Three more jumps for the top eight competitors in the nation! Gianna's best official jump for the day of 19-10.75 landed her the bronze medal and another trip to the Championship podium, securing her second All-American award of the weekend! Gianna has now earned this incredible accomplishment at all 3 national indoor events: Adidas, Nike and New Balance.
Gianna's final high school indoor track and field effort secures her prominence at the state level, winning the NY State Championship and at the national level, earning 3x All-American, ranked US #3 High School Girls Indoor Long Jumper and earning the most consistent number of official jumps over 19 feet in the nation this indoor season (MilesplitUSA).
Gianna has been recognized by MileSplit USA as being "the most consistent elite long jumper in the nation."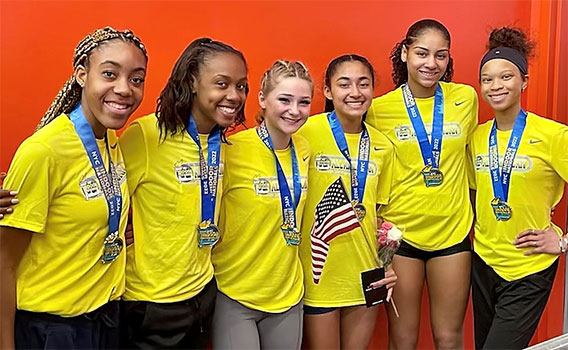 Nike Nationals top six US high school long jumpers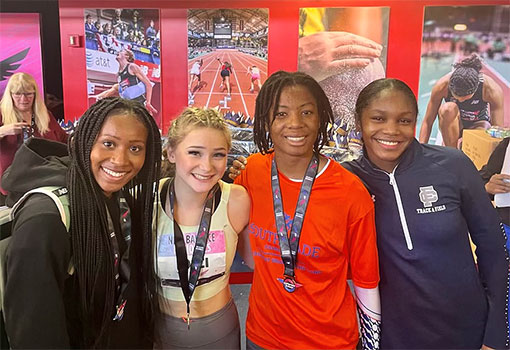 New Balance Nationals top four US high school long jumpers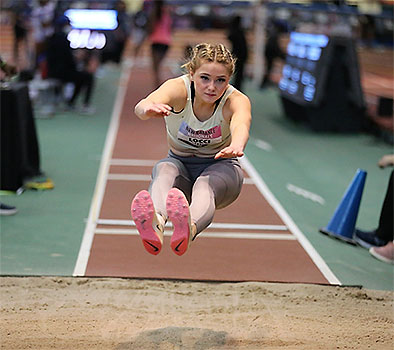 Gianna long jumping at the New Balance competition – photo by John Nepolitan