Stillwater Central School District, in collaboration with New York State Assemblywoman Carrie Woerner, is hosting a special Women in Trades event on  Wednesday, March 16, from 5:30 – 7 p.m. in the Stillwater Middle School cafeteria.
Students and their parents/guardians from several area high schools and the WSWHE BOCES are being invited to the event, which will feature a panel discussion with successful women who work in the trades, along with important information for students and their families.
The panelists will include:
Kathy Stilsing, President, Stilsing Electric
Ashley Ciccarelli, Union Organizer, Plumbers and Steamfitters
Janelle D'Ambrosio, Apprentice Carpenter
Marjorie Travison, Journeyperson Ironworker
Nikki Bronzene, Apprentice Plumber and Steamfitter
Cinty Laurent, Apprentice Electrician
Carrie Woerner, Assemblywoman, 113th Assembly District
Patricia Morris, Superintendent, Stillwater Central School District
Stillwater Superintendent Patricia Morris is an active member of a regional workforce development task force and has been working with fellow educators, guidance counselors, trades people, labor organizations and businesses to identify ways for more young people to understand the vast opportunities offered by careers in the trades.
The Women in Trades event is part of Stillwater Central School District's Regional Career Week activities, which are taking place from March 14-18, 2022 at the school, and the regional workforce development effort in partnership with the WSWHE BOCES.
The Stillwater Middle School cafeteria entrance is located in the back of the middle/high school building at the school's campus at 1068 Hudson Avenue in Stillwater.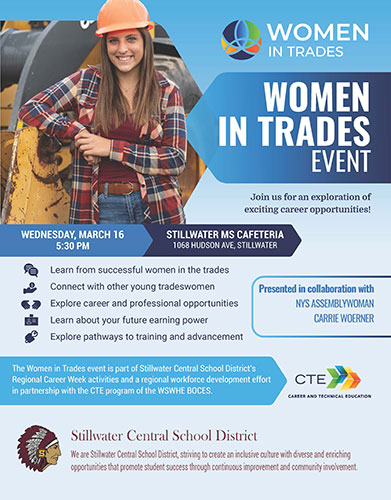 View our Women in Trades video
Career week activities are planned for students in grades 6-12
In addition to the Women in Trades evening event on March 16, Stillwater is planning a host of Regional Career Week activities and explorations for students of all interests in grades 6-12, including:
Monday, March 14: Students take an interest inventory survey
Tuesday: HS students learn a Recipe for Success, participate in a virtual experience, and learn from panel discussions about Career and Technical Education
Wednesday: 9th grade students learn from their Stillwater peers about career education, training and opportunities for their future. At 5:30 p.m.: Women in Trades event – all are welcome (detailed above)
Thursday: 11th grade students attend a college fair at SUNY Adirondack
Friday: Students explore career clusters, Junior Achievement activities, future planning, and review their week
[posted March 4, updated March 11 and March 16]