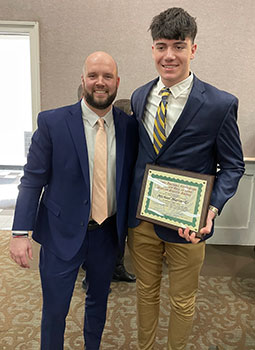 Congratulations to Stillwater senior Michael Marinello on being named to the 2022-23 National Football Foundation & College Hall of Fame.
Michael received his Hall of Fame Scholar-Athlete Award at the Hall of Fame's 34th Annual Awards Dinner at the Polish Community Center in Albany on Sunday, March 12.
The following is inscribed on his award plaque: "The Capital District Chapter of the National Football Foundation grants Michael Marinello of Stillwater High School this certificate in recognition of being voted as outstanding in Academic Achievement, School & Community Leadership, and football performance, in the territory of this chapter."
"Michael has been outstanding in both the classroom and on the playing field," said Ian Godfrey, Stillwater coach and teacher. "A senior captain on the football field, Michael was a big-time contributor and role model for our younger players. Best of luck to Michael next year at Limestone! Go Warriors!"
Michael will study Exercise Science at Limestone University. Read about his signing ceremony in December.