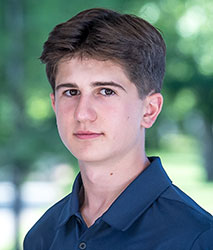 Congratulations to Stillwater High School senior Nicholas Baines on being selected as a winner of the State Farm Companies Foundation Scholarship, a special scholarship award with the National Merit Scholarship Corporation.
Scholarship winners were selected from students who advanced to the finalist level in the National Merit Scholarship competition and met the specific criteria of their scholarship sponsor. Nicholas was entered into the 2022 National Merit Scholarship Program when he took the 2020 Preliminary SAT/National Merit Scholarship Qualifying Test (PSAT/NMSQT). This served as an initial screening process of program entrants.
National Merit Scholarship winners are finalist candidates judged to have the strongest combination of academic skills and achievements, extracurricular accomplishments, and potential for success in rigorous college studies.