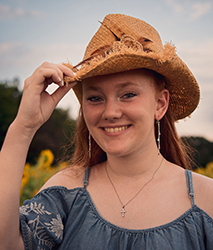 Stillwater High School senior Ryleigh McDonagh was honored by the Saratoga County School Boards Association (SCSBA) for her extensive community service.
Ryleigh was formally recognized at the SCSBA's 2022 Student Community Service Awards ceremony on  May 12, and she received a $150 award.
Ryleigh was honored for her community service as:
A Stillwater Community Volunteer
– Youth Leadership Recognition Program
– Church of the Resurrection Acolyte
– Sleep in Heavenly Peace Foundation
– Bed Building Planning Committee
– Kitten Angels
– Weekly Volunteer
– Samaritans Purse
– Spread Christianity
– Donate Holiday Gifts Global-Wide
– Alzheimer's Association
Girl Scouts of NENY
– Bronze Award Recipient
– Silver Award Recipient
Stillwater High School
– Class of 2022 Secretary
– President's Education Awards Program
– 9/11 Memorial Band Performer
– Wind Ensemble (Band)
– Varsity Club
– Volleyball
In congratulating the schools and their students, WSWHE BOCES District Superintendent James Dexter said, "These students are so impressive and reflect highly on their school districts."
Congratulations Ryleigh. We are proud of you!