Leanny Castro, a Stillwater High School sophomore, has been selected to participate in the 2022 Puerto Rican/Hispanic Youth Leadership Institute (PR/HYLI), a statewide student leadership development program for Latino and Hispanic youth.
Leanny wrote and submitted an essay to apply for PR/HYLI, which is presented in collaboration with the New York State Assembly/Senate Puerto Rican/Hispanic Task Force, Office of Bilingual Education and World Language, and regional agencies.
"I learned I was accepted into the Institute just a week and a half after I sent my essay, and I couldn't stop telling everyone about it – my mom, my grandma and my dad – over and over again," Leanny said. "They were happy for me!"
PR/HYLI student delegates are meeting online by region to study and discuss local issues, the state legislative process, parliamentary procedure and proposed bills. In March, they'll gather for a three-day institute in Albany, where they will team-build, hold a mock Assembly session in the Capitol chamber, discuss career opportunities, network with positive role models and attend an awards and scholarship dinner.
Leanny, who grew up in the Dominican Republic and then lived in the Bronx,  moved with her family to Stillwater last February. Leanny first learned about the subject of her Institute essay from her Spanish teacher in the Bronx and was impressed by her public service.
"We had to write an essay about someone who's doing good for their community, and I chose Congresswoman Alexandria Ocasio-Cortez of the Bronx, where I used to live," Leanny said. "She's making changes not just for the Hispanic community, but for the whole community in general, to make our society better."
Leanny plays guitar, enjoys music and is also interested in business. She plans to combine those interests by heading to college after graduation to prepare for a career in music management. "I want to work with artists and represent them, and I like business, too," she said. As a high school student, she's enjoying expanding her knowledge and activities.
"There are a lot of opportunities in Stillwater, and I've been doing things I never did before, like learning the clarinet and playing sports including volleyball and basketball," Leanny said. "My younger brother and sister are Stillwater students, and I want to be a good role model for them." The honor of being accepted into PR/HYLI will surely give Leanny's siblings something to admire.
Congratulations Leanny!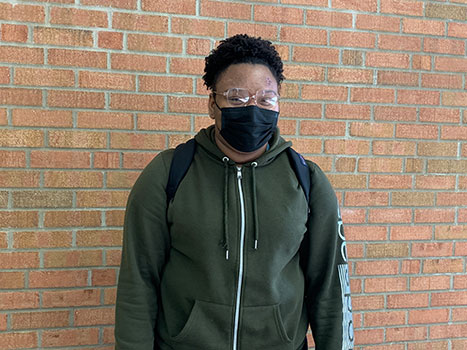 Leanny on her way to high school gym class