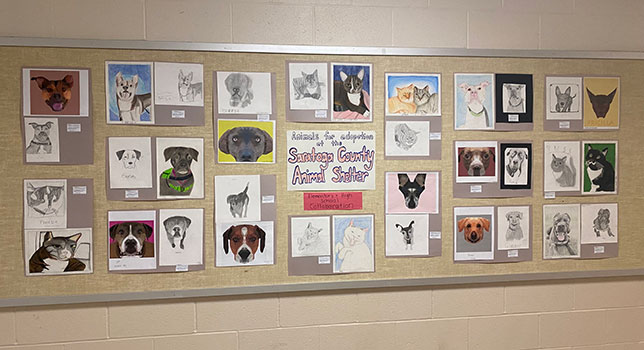 Stillwater Elementary and High School art students recently tapped their talent and creative skills to help the Saratoga County Animal Shelter find homes for pets, with beautiful results. Art teachers Heidi Giebel and Samantha Conboy have been working together with their students on the project, and high school alternate learning teacher Cindy Meers and her students are also lending a hand to help the animals.
"All of our 4th and 5th graders have been learning about the elements of art, shape, form, value and texture to create these lovely drawings of the animals for adoption from the Saratoga County Animal Shelter," Giebel said. "Our goal is to increase awareness and promote adoptions from the shelter.
"Our high school students were asked to draw the same animals to go alongside our younger students' art. The high schoolers added color to their drawings and they are just gorgeous. Along with the beautiful art, high school teacher Cindy Meers and her students have been making animal beds which will also be donated to the shelter."
"The students collected photos from the shelter to recreate in a drawing or in digital art, in hopes that displaying the artwork would help these animals get adopted," Conboy said.
"The high school and elementary students also shared their finished artwork with one another. However, they did not know ahead of time who they were collaborating with.  It was a fun surprise to be able to see one another's work when they were finished."
The artwork is displayed in the high school now, then will move to the elementary school and finally will be displayed at the animal shelter. The Saratoga County Animal Shelter is located at 6010 County Farm Road in Ballston Spa. Reach the shelter at (518) 885-4113; @saratogacountyanimalshelter (Instagram);
@SCAS12 (Facebook); www.saratogacountyanimalshelter.com.
View more photos of the artwork in our Facebook album.